BWI offers comprehensive industrial aid, aviation insurance policies that offer liability and physical damage coverage for aircraft flown and managed by professional pilots.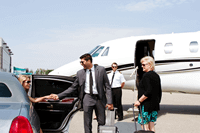 Industrial aid aircraft insurance policies are designed to protect businesses that own aircraft and employ professional pilots to fly employees and guests.
Industrial aid insurance policies do not include coverage for rental or charter use for which a charge is made.
Our in industrial aid aircraft insurance policies are backed by A rated, aviation insurance companies, and our team is experienced in helping businesses and aircraft owners manage their liability risk.
Our Industrial Aid aircraft insurance policies offer the following coverages:
Liability Coverage from $1,000,000-$200,000,000

Bodily Injury, Property Damage and Legal Defense

Crew and passenger medical coverage
Aircraft physical damage coverage
Non-owned aircraft coverage
BWI is a family-owned, nationwide insurance brokerage specializing in aviation insurance since 1977. Our dedicated Aviation Insurance Professionals are highly trained, hand-picked and experienced in helping repair shops, airports, FBO's, and other aviation businesses, obtain the very best insurance coverage.
BWI | The Future Of Aviation Insurance
Family Owned Since 1977 | Nationwide | Forward Thinking
What makes us different? Our office is open 12 hours a day, our team is hand-picked, well-trained and every single customer has their own dedicated Aviation Insurance Professional.
Get a no-obligation, customized Industrial Aid Aircraft Quote at bwifly.com or call 800.666.4359