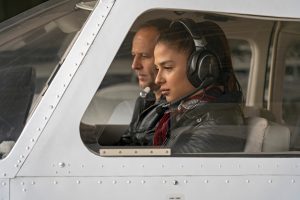 If you're attending flight school or have your pilot's license and fly someone else's aircraft, you accept quite a bit of risk when you do so. If something you do leads to injuries, damage to the craft, or damage to property on the ground, you may be on the hook financially for the costs associated with those events.
You may think your flight school or fixed-base operator (FBO) already has insurance that provides coverage for these types of incidents, but that's typically not the case. Insurance is typically your responsibility.
That's why it's important to consider non-owned aircraft insurance if you attend flight school, fly someone else's aircraft, or if your company rents an aircraft for corporate use.
What Is Non-Owned Aircraft Insurance?
Non-owned aircraft insurance, also known as aircraft renters insurance, is a unique type of insurance that pays a portion or all of the cost of covered events when you operate someone else's aircraft.
These are typically one-year policies with premiums paid for the entire year at once. However, you can usually decide to make monthly premium payments instead.
Non-owned aircraft insurance is designed to be a secondary form of coverage. It's intended to cover you in the event that the aircraft owner doesn't have insurance coverage or has insufficient insurance coverage. As a result, these policies usually come at a significantly lower cost than traditional owned aircraft insurance.
What Does Aircraft Renters Insurance Cover?
There are a few points of coverage to consider when you purchase an aircraft renters insurance policy. Those include:
Liability Coverage: Aircraft liability coverage helps cover the cost of bodily injury or damage to property as a result of a covered event. That means if you are forced to land on a highway and collide with two vehicles when you do, insurance covers the damages to those vehicles and any injuries the passengers of those vehicles sustain.
Legal Defense: If you need legal defense because of a covered event, your non-owned aircraft insurance policy will help cover all or some of the cost of your defense.
Liability & Legal Coverage Caps: Liability coverage, including legal defense coverage, usually has caps starting at $250,000 per occurrence with limits of $25,000 per passenger. However, you can typically request coverage as high as $1 million for each covered event and $200,000 per passenger if you're willing to pay a higher premium.
Aircraft Physical Damage: Most non-owned aircraft insurance covers physical damages to the aircraft as a result of a covered event. However, these policies typically limit hull coverage to between $5,000 and $200,000. Moreover, non-owned aircraft insurance is a secondary policy. As such, the owner's insurance policy is billed first, and the remainder, if any, is billed to your insurance policy.
What Type of Aircraft Does Aircraft Renters Insurance Cover?
You can open a non-owned aircraft insurance policy for just about any type of aircraft. These include, but are not limited to:
Single Engine Land Aircraft & Gliders: These include standard, experimental, and light sport aircraft that are powered by a single reciprocating piston engine.
Gliders & Sailplanes: You can also get aircraft renters insurance for gliders and sailplanes.
Single-Engine Seaplanes: These include any fixed-wing, single-engine aircraft that's designed to land and take off from water.
Multi-Engine Land Aircraft: These include any multi-engine aircraft designed to take off and land on land. These policies typically only cover non-pressurized vehicles.
How Much Does Aircraft Renters Insurance Cost?
As mentioned above, non-owned aircraft insurance is designed as a secondary insurance policy and is typically significantly less expensive than traditional aircraft insurance. You can find policies that start at $72 per year with minimal coverage caps. These plans typically come with $250,000 in liability coverage that's limited to $25,000 per passenger.
You can also go for the largest policies that have $1 million in coverage per occurrence with $200,000 in coverage per passenger for around $470 per year.
Physical damage and hull coverage are typically add-ons and come at an additional cost. For example $5,000 in physical damage coverage is usually around $86 per year, while a policy with $200,000 coverage limits on hull and property damage costs around $1,663 per year.
What Factors Do Underwriters Consider for Non-Owned Aircraft Insurance Coverage?
There are several factors underwriters consider when pricing your non-owned aircraft insurance policy. Some of the most important factors include:
The number of hours you operate an aircraft you don't own.
The type of aircraft you operate and its value.
Does the person or corporation that owns the aircraft you operate have insurance? If so, the coverage they pay for becomes coverage you don't have to buy.
The limits of liability you set on your insurance policy.
Your flight record.
If you're a corporation that rents aircraft for business use, your underwriter will also consider how many of your employees operate the aircraft, policies your company has in place for the safe operation of the aircraft, the type of training pilots have had, and pilot qualifications for each pilot the policy covers.
Frequently Asked Questions About Non-Owned Aircraft Insurance
Find the answers to the most common questions about aircraft renters insurance below.
Can I Cancel My Policy Before the Term Ends?
Yes, but you may have to pay minimum earned premiums. In most cases, you'll need to pay at least six months of premiums plus a 10% cancellation fee based on the remaining premium payments in the term.
Should a Company that Charters Aircraft Purchase a Non-Owned Aircraft Insurance Policy?
Non-owned aircraft insurance is typically only for individuals. However, there are special types of insurance policies that cover corporations that rent aircraft for corporate use.
How Can I Reduce the Cost of Aircraft Renters Insurance?
There are a few things you can do to make sure your aircraft renters insurance premiums are minimal:
Coverage Amounts: Opt for lower coverage amounts where you can. Low coverage amounts pose minimal risk to insurance companies and come with lower premiums.
Pay for Minor Damages: Insurance becomes more expensive when you use it. To save in the long run, it may be best to pay for minor damages rather than filing a claim on your insurance.
Maintain a Positive Record: Your flight record plays a role in your pricing.
Accurately Predict Flight Hours: You don't want to pay for flight hours you're not likely to use.