Hangarkeepers Liability Insurance
BWI offers comprehensive hangarkeepers insurance policies that provide coverage for damage to or destruction of the aircraft or others while in the insureds or policyholders care, custody and control.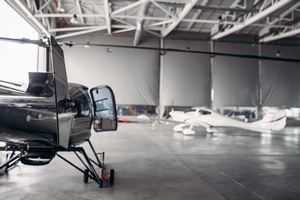 If you operate a commercial aviation business such as an aircraft repair shop, FBO, airport, avionics shop, aircraft paint shop, etc and you regularly have aircraft in your care, custody and control, you should consider a comprehensive hangarkeepers insurance policy.
Hangarkeepers insurance policies have various different coverages and the professionals at BWI can help you understand your total risk exposure and put together a comprehensive hangarkeepers insurance policy to mitigate the risk.
BWI is a family-owned, nationwide insurance brokerage specializing in aviation insurance since 1977. Our dedicated Aviation Insurance Professionals are highly trained, hand-picked and experienced in helping repair shops, airports, FBO's, and other aviation businesses, obtain the very best insurance coverage.
What Is Hangarkeepers insurance?
Hangarkeepers liability insurance policies include coverages called (slip & fall) that provide liability coverage in the event of an accident or incident inside your hangar and other property.
Hangarkeepers liability policies also can include loss of use, diminution of value and coverages for physical damages to aircraft. Additionally, hangarkeepers liability policies include legal liability, which pays for your legal defense in the event that the policyholder is sued.
Hangarkeepers Insurance Policies Offer Coverages Such As:
Premises Liability Coverage:

This coverage offers 3rd party protection for the aviation business or policyholder, in the event of an accident or incident occurring within the hangar or property premises.
Legal Liability: If the policyholder is sued, your hangarkeepers liability insurance policy will pay for your legal defense to protect you from a claim.

Hangarkeepers Liability

Covers liabilities incurred for aircraft within your control such as physical damages to aircraft, loss of use and loss of value.
BWI | The Future Of Aviation Insurance
Family Owned Since 1977 | Nationwide | Forward Thinking
What makes us different? Our office is open 12 hours a day, our team is hand-picked, well-trained and every single customer has their own dedicated Aviation Insurance Professional.
Get a no-obligation, customized Hangarkeepers Insurance Quote at www.bwifly.com or call 800.666.4359