BWI offers comprehensive aviation workers compensation insurance policies that provide coverage for your business and your employees.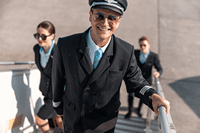 No matter what type of aviation business you are operating, your employees, mechanics, instructors or flight crew can get hurt on the job.
A comprehensive aviation workers compensation insurance policy from BWI, can help protect your business and give your employees the benefits they need if they have a work-related injury or illness.
Aviation Workers Compensation Insurance policies typically cover:
Medical expenses to treat your injured or sick employee.
Missed wages if your employee needs time off from work to recover
Vocational Rehabilitation which provides coverage for ongoing care
Death benefits including funeral costs in the event one of your employees passes away due to a work-related incident.
Workers compensation insurance policies vary and are regulated by each state and also vary based on the specific type of aviation business and risks associated with each individual business operation.
If you operate a commercial aviation business such as an aircraft repair shop, FBO, airport, avionics shop, aircraft paint shop, aviation charter operation, etc and have employees on staff, you should consider a comprehensive aviation workers compensation insurance policy.
BWI is a family-owned, nationwide insurance brokerage specializing in aviation insurance since 1977. Our dedicated Aviation Insurance Professionals are highly trained, hand-picked and experienced in helping repair shops, airports, FBO's, and other aviation businesses, obtain the very best insurance coverage.
BWI | The Future Of Aviation Insurance
Family Owned Since 1977 | Nationwide | Forward Thinking
What makes us different? Our office is open 12 hours a day, our team is hand-picked, well-trained and every single customer has their own dedicated Aviation Insurance Professional.
Get a no-obligation, customized Aviation Workers Compensation Insurance Quote at www.bwifly.com or call 800.666.4359