Flying Club Insurance
BWI offers comprehensive Flying Club insurance policies designed to protect flying clubs, their members and the aircraft owned by the club.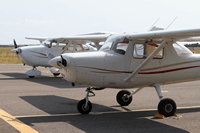 Our flying club insurance policies are backed by A+ rated aviation insurance companies and offer coverages such as: liability coverage, physical damage coverage and may include cross-liability coverage.
From flying clubs with 5 members and a single Cessna 172, to the largest clubs with multiple aircraft and hundreds of members, BWI has an aviation insurance solution to fit your specific coverage needs.
BWI is a family-owned, nationwide insurance brokerage specializing in aviation insurance since 1977. Our dedicated Aviation Insurance Professionals are highly trained, hand-picked and experienced in helping flying clubs obtain the very best insurance coverage.
What Is Flying Club Insurance?
A Flying Club Insurance Policy is an annual policy designed specifically to offer liability coverage to protect flying clubs and their members from the liability risk of bodily injury or property damage caused by the operation of an aircraft.
Flying club insurance policies also may provide legal defense up to the coverage limit, in the event the flying club or its members are held legally liable as a result of an aircraft incident or accident owned by the club. Flying club insurance policies can also include hull coverage, which offers physical damage coverage to cover aircraft owned by the club. Cross-liability is another optional coverage, which offers coverage for club members in the event they injure another club member.
Flying Club Insurance Policies Offer Coverages Such As:
Liability Coverage:

This coverage offers 3rd party protection for the club and its members in the event of an accident or incident resulting in bodily injury or property damage, due to the operation of a club aircraft.
Typically includes coverage for legal defense, in the even the club or its members are sued due to the operation of a club aircraft.

Cross-Liability:

This is an optional coverage that includes coverage for club members when they are involved in an accident or incident due to the actions of another club member

Hull Coverage:

Covers physical damage to the club's aircraft, up to the agreed value of the aircraft insured.

Typical coverages includes Full-Flight-Hull, Ground In-Motion, and Ground Not-In-Motion
Typical Information Needed For A Flying Club Insurance Quote
Roster of aircraft including N number, year, make, model, hull value, annual hours flown.
Roster of pilots including pilot names, ages, license/ratings, total hours, hours in aircraft that the club owns, hours last 12 months.
Flying club management information.
Liability coverage limits requested.
Flying club operations information such as by-laws, CFI's for instruction, maintenance information, etc.
Flight School risk management and safety/training initiatives.
BWI | The Future Of Aviation Insurance
Family Owned Since 1977 | Nationwide | Forward Thinking
What makes us different? Our office is open 12 hours a day, our team is hand-picked, well-trained and every single customer has their own dedicated Aviation Insurance Professional.
Get a no-obligation, customized Flight School Insurance Quote at www.bwifly.com or call 800.666.4359