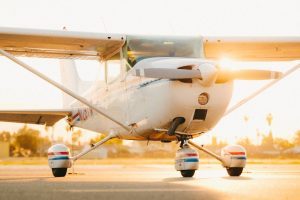 As a certified flight instructor (CFI), you have the singularly important task of providing flight instruction and training to aspiring pilots. While the rewards of being a CFI are numerous, it is important to remember that your role comes with a significant amount of responsibility and risk.
As a CFI, you are responsible for the safety of your students and any passengers on board the aircraft during a flight lesson or review. This includes ensuring that the aircraft is in good working condition and properly maintained, and that your students follow all safety protocols. However, even with the utmost care and attention, accidents can still happen, and with accidents often come large financial liabilities.
One way to protect yourself and your business is to purchase a certified flight instructor insurance policy.
How Can a CFI Insurance Policy Protect You?
In the event of an accident, a CFI insurance policy can provide financial protection against any claims made against you. This can include claims for bodily injury, property damage, or damage to the aircraft. Without this type of insurance, a CFI could be financially responsible for these types of claims out of their own pocket, which could be financially devastating.
In addition to protecting you during your flight lessons, a CFI insurance policy can protect you when a student you signed off on is involved in an aviation accident. If an incident occurs, the complainants may try to sue you in addition to suing your student. The argument, in this case, would be that your student was unfit to fly and that you should have seen that during the hours you flew together. Lawyers for the complainants will often try to sue any party they believe may hold partial responsibility for the damages or injuries incurred.
In a major incident, the damages sought by the complainants can be astronomical. For example, if your student went on to become a commercial pilot involved in a commercial airline accident, every victim in that situation may end up seeking damages. The potential consequences, both financial and reputational, of losing such a case can be ruinous for you and your business.
While the argument can be made that a CFI's responsibility for their students' actions ends at the conclusion of their lessons together, the injured parties may not see it that way. Even if you end up winning your case, legal fees can add up. A CFI insurance policy will protect you from large legal fees in the event of a lawsuit.
A CFI Insurance Policy Protects Your Aircraft
In addition to protecting the CFI from financial liability, a CFI insurance policy can also provide coverage for the aircraft itself. This can include physical damage to the aircraft, as well as damage caused by a mechanical malfunction. This can be particularly important for CFIs who do not own the aircraft they are using for instruction, as they may not have the financial means to repair or replace the aircraft if it is damaged.
What about the Owner's Aircraft Insurance Policy?
If you're using an aircraft you do not own for instruction, will the aircraft owner's insurance policy cover damages to the aircraft in case of an accident? In many cases, it might not.
This is because aircraft insurance policies are typically specific to the owner and the pilots named in the insurance policy, and may not extend coverage to other pilots using the aircraft.
In the event of an accident or incident while flying, as the CFI you may be held financially responsible for any damages to the aircraft. This can be a significant financial burden, especially for CFIs who are just starting out in their careers. To protect against these costs, it's important for CFIs to purchase their own insurance policies.
CFI insurance is specifically designed to provide protection for pilots in this situation. Having this coverage, CFIs can fly with confidence, knowing that they are financially protected in the event of an accident.
Protecting Your Reputation
In addition to financial protection, a good CFI insurance policy can also help to protect your professional reputation. In the event of an accident, the CFI may face legal action or claims from third parties. Having adequate insurance coverage can help to defend against these claims and minimize the potential damage to your reputation.
About BWI
Since 1977, Bill White Insurance (BWI) has been at the forefront of the aviation insurance industry. We strive to provide our customers the most competitive rates and top-notch service nationwide. In 1979 we pioneered the very first Robinson Helicopter Insurance Program. Working directly with the Robinson company, we quickly had over 200 Robinson Helicopters in our program.
In the 1980's we developed and introduced the nation's first Cessna 180 / 185 insurance program. We designed this program specifically for qualified and experienced 180 / 185 pilots. We have enjoyed blockbuster success and outstanding rates for our customers throughout this program's existence due to the quality of pilots in the program. To this day we are still the premier market for Cessna 180 and 185 owners.
BWI's almost 50 years of experience and strong reputation as a leader in the aircraft insurance industry means customers can be confident that they made the right choice when they choose to work with us.
How BWI Can Help You
A CFI insurance policy is an important purchase and we understand how vital it can be to get the type of coverage you need. Our team will help create a tailored CFI insurance policy for you that fits the specific needs of you and your business.
When it comes to customer service, we have a reputation to uphold, and we take that very seriously. Our office is open 12 hours a day, our team is hand-picked and well-trained, and every single customer has their own dedicated Aviation Insurance Professional.
Purchasing a CFI insurance policy is an important step for any CFI. A good policy can give CFIs peace of mind and help them focus on providing their students with the best possible flight instruction. Get a no-obligation, customized Flight Instructor insurance quote here or call 800.666.4359