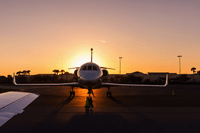 BWI offers comprehensive Falcon Jet insurance policies designed exclusively to offer the very best liability and hull coverage for your Falcon jet aircraft. Whether your aircraft is owner-flown, flying as a corporate/industrial aid aircraft, used for an aircraft charter operation or part of an airline fleet, BWI has the right aviation insurance solution to fit your needs.
Falcon Jet insurance policies from BWI are underwritten through the top A-rated, aviation insurance companies and our dedicated aviation insurance professionals are adept at helping Falcon jet owners find the right coverage at the most competitive rates.
Owning and operating a Falcon Jet can be unique and also complex undertaking. Our agents can help you asses your total liability exposure and manage the risk by putting together a tailor made aviation insurance solution.
BWI is a family-owned, nationwide insurance brokerage specializing in aviation insurance since 1977. Our dedicated Aviation Insurance Professionals are highly trained, hand-picked and experienced in helping Embraer Jet owners, obtain the very best insurance coverage.
Or Speak With One Of Our Aviation Insurance Professionals At 800.666.IFLY (4359)
What is Falcon Jet Insurance?
A Falcon jet insurance policy is an annual aircraft insurance policy, designed specifically to offer liability, medical, hull coverage and provide legal defense for policyholders of Falcon jet aircraft.
Falcon jet insurance policies include liability coverage, which covers your legal liability in the event that property damage or bodily injury occurs as a result of the operation of your jet aircraft.
Falcon jet insurance policies also can include physical damage or (hull coverage) which offers protection for damage that occurs to the jet aircraft itself. Hull coverage is typically written on a broad form insurance policy, which means that damage to the aircraft is typically covered, unless it's specifically excluded from the policy, in the policy exclusions section.
Falcon jet insurance policies also include coverage for legal defense and various other coverages (depending on the insurance company and detailed insurance quote offering) like off-airport retrieval, emergency services coverages, trip interruption coverage and passenger medical coverages.
BWI offers Falcon jet insurance for the following models:
Falcon 10/100 Insurance
Falcon 20/200 Insurance
Falcon 30/40 Insurance
Falcon 50 Insurance
Dassault Falcon 5X Insurance
Dassault Falcon 6X Insurance
Dassault Falcon 7X Insurance
Dassault Falcon 8X Insurance
Dassault Falcon 900 Insurance
Dassault Falcon 2000 Insurance
Typical Falcon Jet Insurance Coverages
Liability Coverage

Liability coverage is standard on all Falcon jet insurance policies and typically includes a liability limit between $1,000,000 – $500,000,000 per occurrence.
Liability coverage protects the policyholder from bodily injury or property damage sustained as a result of the operation of your jet aircraft.
Embraer Jet insurance policies can include a per passenger liability limit that limits liability coverage for each passenger. Limits typically range from $100,000-$1,000,000 and are included within the total liability policy limit.

Medical Payments

Policy limits between $5,000-$20,000.
Paid for minor medical expenses.

Physical Damage Coverage

Provides hull for the aircraft itself.
Physical damage coverage is based on the agreed value of the aircraft.
Typically includes $0-10% deductibles.

Additional Falcon Jet Coverages

Cargo Liability
Non-owned aircraft: Liability and physical damage coverage
Passenger Voluntary Settlement.
Baggage, Hangars & Contents
Emergency or Unexpected Landing Expense
Extra Expense for Renting a Substitute Aircraft
Extra Expense For Temporary Replacement Aircraft Parts
Hangarkeepers Liability
Host Liquor Liability
Premises Medical Coverage
Runway or Aircraft Foaming Expense
Trip Interruption Expense.