BWI offers comprehensive aircraft mechanic insurance policies that provide coverage for your aircraft maintenance business or mobile aircraft mechanic service. Performing maintenance on aircraft by nature, increases your total liability exposure and it's important to mitigate that increased risk with an aircraft mechanic insurance policy from BWI.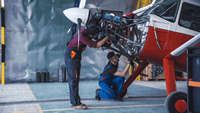 Aircraft mechanic insurance policies typically include coverages such as:
Premises liability
Hangarkeepers liability
Products and completed operations liability
If you own or operate an aircraft maintenance facility or perform mobile aircraft maintenance, you should consider a comprehensive aircraft mechanic insurance policy with BWI. Our aircraft mechanic and maintenance insurance policies are backed by A rated, aviation insurance companies and our team is experience in helping aircraft mechanics and maintenance facility businesses manage their risk.
BWI is a family-owned, nationwide insurance brokerage specializing in aviation insurance since 1977. Our dedicated Aviation Insurance Professionals are highly trained, hand-picked and experienced in helping repair shops, airports, FBO's, and other aviation businesses, obtain the very best insurance coverage.
BWI | The Future Of Aviation Insurance
Family Owned Since 1977 | Nationwide | Forward Thinking
What makes us different? Our office is open 12 hours a day, our team is hand-picked, well-trained and every single customer has their own dedicated Aviation Insurance Professional.
Get a no-obligation, customized Aircraft Mechanic Insurance Quote at www.bwifly.com or call 800.666.4359