Airport Insurance
Airports and FBOs are complex environments and have an increased liability risk that includes daily aircraft, maintenance, passenger and cargo aviation operations. BWI offers comprehensive airport insurance solutions that provide coverage for a wide range of risks such as airport premises liability, workers compensation, pollution coverage, hangarkeepers insurance, and aviation fuel and oil sales coverage.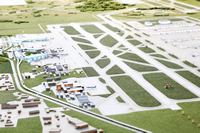 Airport insurance typically includes an airport premises liability insurance policy at a minimum and depending on the risks specific to that airport, can include a multitude of additional aviation insurance policies and coverages.
Ensuring your airport or FBO is properly insured can be a complicated endeavor. Trust the professionals at BWI to evaluate your risk exposure and put together a comprehensive airport insurance solution, tailored for your unique operational environment.
BWI is a family-owned, nationwide insurance brokerage specializing in aviation insurance since 1977. Our dedicated Aviation Insurance Professionals are highly trained, hand-picked and experienced in helping airports and FBOs obtain the very best insurance coverage.
What Is Airport Insurance?
Airport insurance policies are designed to protect policyholders from the increased liability risk and exposure that comes with on-site aviation operations.
Airport Insurance policies include liability coverage as standard to protect the policyholder from the legal liability of bodily injury or property damage incurred from the operation of an aircraft or other accident or incident on the premises of an airport.
Airport Insurance Policies Offer Coverages Such As:
Airport Premises Liability Coverage:

This covers damages for bodily injury or property damage arising out of the use of the airport premises for the parking and storage of aircraft.

Hangarkeepers Coverage:

Protects the policyholder when an aircraft is damages while in your care, custody or control for storage, maintenance or storage.
Provides legal defense that may arise from an accident or incident.

Aviation Workers Compensation Coverage:

Provides coverage for medical expenses and loss of income due to injuries occurred on site.
Protects employees including aircraft mechanics, flight crew, pilots and other on premise employees.
BWI | The Future Of Aviation Insurance
Family Owned Since 1977 | Nationwide | Forward Thinking
What makes us different? Our office is open 12 hours a day, our team is hand-picked, well-trained and every single customer has their own dedicated Aviation Insurance Professional.
Get a no-obligation, customized Flight School Insurance Quote at www.bwifly.com or call 800.666.4359