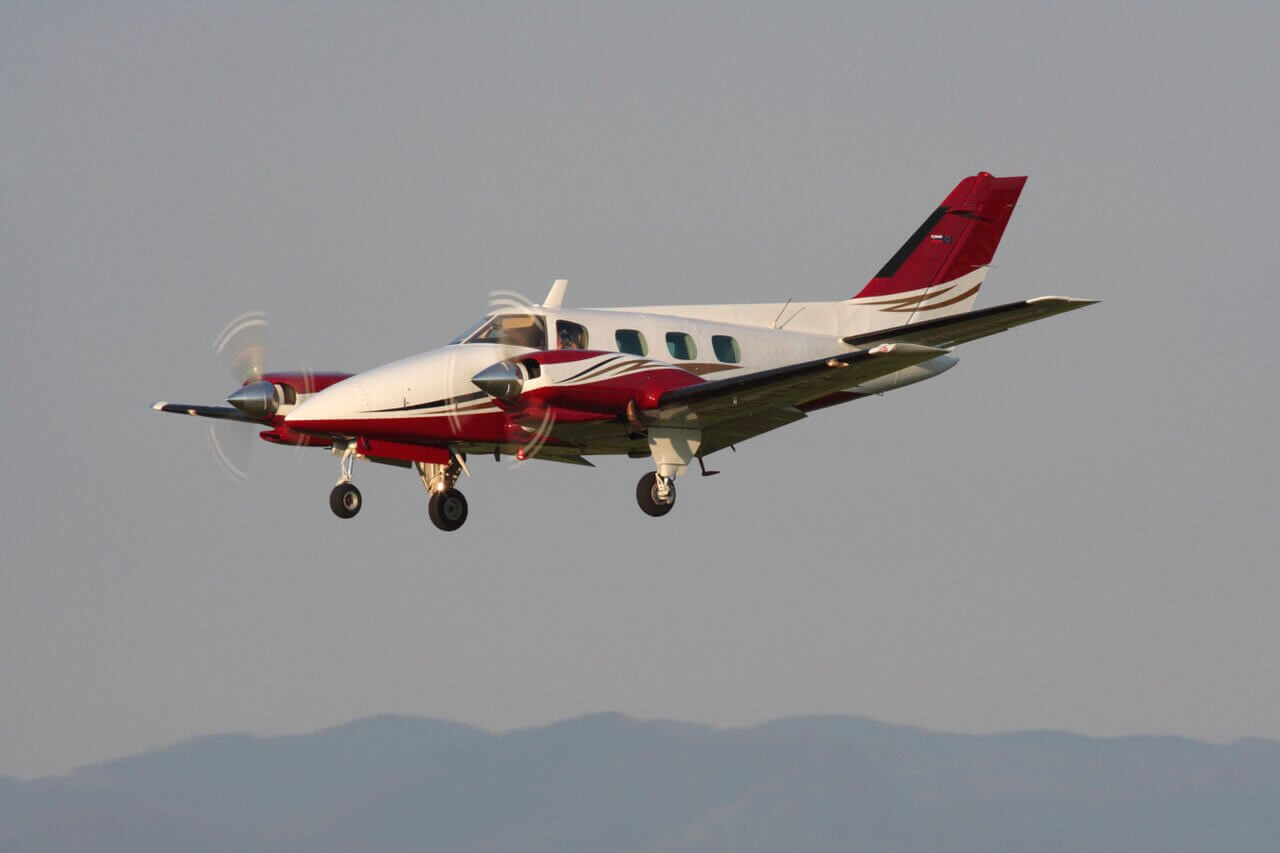 Beech 60 Duke Overview:
In the mid-1960s, Beechcraft found themselves with a hole in their lineup. The incredibly successful Baron could move six passengers at nearly 200 knots, while the Queen Air had no competitors for its ability to lift a cabin full of up to nine passengers and cargo. But Cessna and Piper were introducing pressurized cabin class twin-engine aircraft capable of getting above weather systems and turbulence, and Beechcraft had to compete.
Beech combined the wing of the Baron with a new engine, the Lycoming TIO-541. Test flights on a modified Baron showed the engine met its performance goals, and this combination was mated with a brand new cabin allowing four cabin seats in a club configuration combined with two seats in the cockpit. A sideways opening door and fold-out stairs were more reminiscent of a small business jet than a piston-engined twin. To align with the royalty theme used by Beechcraft, the new model 60 was dubbed the Duke.
Follow-on models – the A60 in 1970 and the B60 in 1974 – differed primarily in slight maximum weight bumps, the improvement of interior details, lightening of the aircraft structure to improve payload, and more efficient turbochargers for the powerful Lycoming engines. The Duke boasted impressive figures – a cruise speed of nearly 230 knots at altitude, service ceiling of 30,000 feet, and maximum payloads in excess of 2000 pounds. With optional extended fuel tanks, the Duke could carry a maximum of 232 gallons of fuel and had a range of over 1200 nautical miles.
Similar to other Beech aircraft produced around the same time frame, the Duke utilized magnesium for the structural skin in the tail section. Magnesium is very prone to corrosion and thus repairs are complicated, leading to heavy maintenance requirements focused on prevention and early detection of this issue. The mechanical systems in the Duke, advanced at the time of introduction, are now difficult to support with a lack of parts availability and fewer knowledgeable mechanics. Avweb noted that owners of Dukes frequently compare them to sports cars and don't own them for their inexpensive operating costs.
The Duke was produced until 1983, and in relatively low numbers for the time due to the higher cost of maintenance and ownership, with less than 600 produced. Aftermarket conversions swapping turboprop engines in place of the original Lycomings have produced incredibly high-performance airplanes, but most Dukes remain in their stock configurations in the hands of private owners. Duke owners banded together to produce the Duke Flyers Association, which remains an asset for group support to this day.
Beech 60 Duke Insurance Cost:
Aviation insurance in general, is a very specialized industry and premiums vary depending on make and model of the aircraft, hull value, use of the aircraft, pilot history and qualifications and aircraft insurance rates even take into account the loss history of each specific make and model and the loss history of the aviation industry as a whole.
Beech 60 Duke insurance, like all aviation insurance, is broken down into 2 specific coverages. The first is Liability Coverage, which is standard on every aircraft insurance policy and the second is optional hull coverage, which covers damage to the aircraft itself.
Beech 60 Duke aviation liability insurance covers damage caused by the aircraft, outside of the aircraft, specifically property damage, bodily injury, and provides for legal defense in the event that the aircraft owner or policyholder is sued.
Aircraft liability insurance is typically offered for Beech 60 Duke's in amounts between $1,000,000 and $3,000,000 per occurrence (per incident) and includes coverage for passengers, but typically limits that amount to between $100,000 and $1,000,000 per passenger. Passenger liability coverage is included within the total liability coverage amount.
A real-world example of how this aviation liability coverage would protect you: If, as a result of operating your Beech 60 Duke you damaged property or caused bodily injury outside of the aircraft, you would have the full amount of total liability coverage to pay for damages that occurred, less the liability amount paid for passengers inside the aircraft. If the aircraft crashed and you had passengers inside the aircraft that were injured, your insurance policy would pay up to the policy passenger limit for each passenger.
This liability coverage also applies as a bubble that follows the aircraft around. If the aircraft is hangered, liability coverage extends throughout your hangar and it is this coverage that airports will typically require you to have. It's not a separate insurance policy, it is actually coverage built into your standards airplane insurance policy.
Other liability options: Higher liability coverage on the Beech 60 Duke is available to qualified pilots with experience in the make and model and a minimum Commercial/MEL/IFR license/ratings.
The second coverage on a Beech 60 Duke insurance policy is hull coverage and is an optional coverage. Aircraft hull insurance covers damage to the aircraft itself and is an agreed value, not subject to depreciation. Agreed value is decided during the initial insurance quoting process, the aircraft owner requests an insurance quote for his or her Beech 60 Duke and requests a quote including hull coverage in the amount of say $200,000. Once an aviation insurance company provides a quote, they are agreeing with you that your aircraft is worth $200,000.
*Insurance companies may place additional stipulations on quotes to prove the value of your aircraft prior to binding, if your agreed value is higher than bluebook.
Most aviation insurance companies do not offer deductibles higher than $0 deductibles, which means in the event of a total loss, if your aircraft was insured for $200,000, you would get a straight check for $200,000.
Beech 60 Duke Insurance Cost Breakdown:
As of January 2021, there are 8 carriers quoting Beech 60 Duke insurance in the U.S. We consider qualified pilots to have at least a commercial license, with 3,000 total hours, 1,000 MEL hours and 50 hours in the make/model.
For an annual policy with $1,000,000 in liability only coverage.
 Premium range for qualified pilots: $1,500-$1,750 per year.
 Premium range for less than qualified pilots (low-time/etc): $1800,2,400 per year.
For an annual policy with $1,000,000 in liability coverage and $200,000 in hull coverage
 Premium range for qualified pilots: $4,680-$5,700 per year.
 Premium range for less than qualified pilots (low-time/etc): $8,000-$19,500 per year.
BWI is a family-owned, nationwide insurance brokerage specializing in aviation insurance since 1977. Our dedicated Aviation Insurance Professionals are highly trained, hand-picked and experienced in helping Beech 60 Duke owners and operators obtain the very best insurance coverage.
BWI offers comprehensive Beech 60 Duke insurance policies for personal, business, charter, industrial aid, and commercial aviation uses.
For more information or to get an actual Beech 60 Duke insurance quote, please fill out a quote request online here or call us at 800.666.4359
BWI | The Future Of Aviation Insurance
Family Owned Since 1977 | Nationwide | Forward Thinking
What makes us different? Our office is open 12 hours a day, our team is hand-picked, well-trained and every single customer has their own dedicated Aviation Insurance Professional.
*Always consult your insurance policy for exact coverage specifications, exclusions and details.