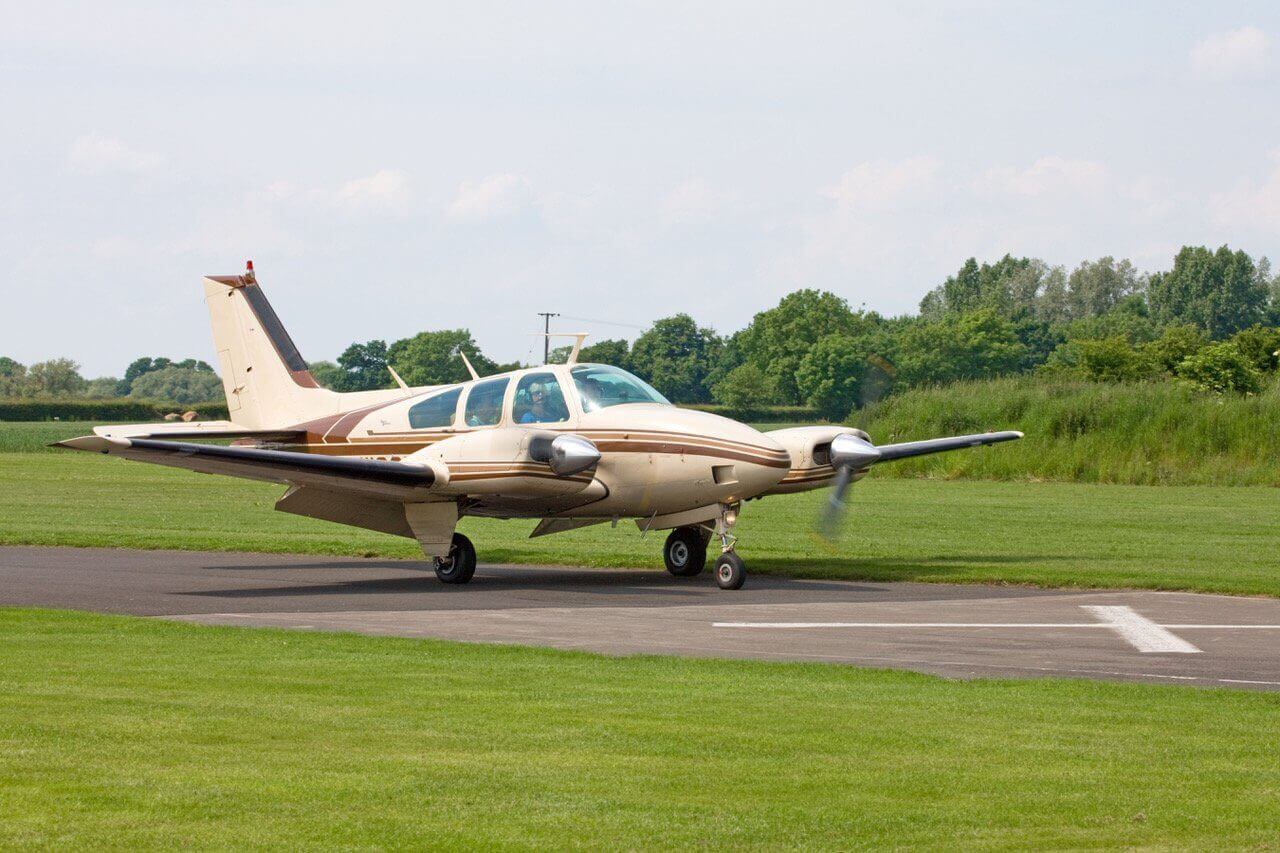 Beech 95 Travel Air Overview:
In the mid-1950s, Beechcraft found itself with a hole in its product line. The single-engine Bonanza was selling incredibly well, with one to two per day leaving the factory. But from there, the next step up in the Beech stable with the Twin Bonanza. Despite the name, the "Twin Bo" shared little in common with the Bonanza, featuring a much larger fuselage, heavier weights, and higher operating expenses. Competitors Cessna and Piper had introduced light twin aircraft (the model 310 and Apache, respectively) and were rapidly selling their new models.
To reduce both the cost and time required to develop the new aircraft, Beech leaned heavily on what they already had. The basic fuselage was borrowed from the Bonanza with a short round nose cone replacing the single-engine. The wing was a new design, but based on the spar structure from the larger Twin Bonanza. The tail structure and landing gear came from Beech's T-34 trainer built for the United States Navy (itself a derivative of the Bonanza), both of which had been heavily strengthened for the training they were designed to endure.
Beech selected the Lycoming O-360 engines for the new model, producing 180 horsepower each. The new Model 95 was designated the Badger and first flew in August of 1956. Later discussion would reveal NATO was using 'Badger' as the reporting name of a Soviet bomber, and Beech elected to rename the aircraft the Travel Air, selected to honor the former Travel Air Manufacturing Company, previously partly owned by Walter Beech.
The initial model 95 Travel Air sat four, with a small child-sized fifth seat available in the aft baggage area. The Travel Air was priced higher than Piper's Apache but lower than Cessna's 310. In 1960 the model B95 brought a nearly 20-inch stretch to the fuselage and turned the Travel Air into a true five-seat airplane, while allowing a slight bump in maximum weight. The B95A followed in 1961 with fuel-injected versions of the Lycoming engines. In 1963 the D95 model brought a longer nose for more baggage space, and the E95 was the final model released in 1967.
Sales numbers remained lackluster against its competitors, and in 1961 Beech took the Travel Air, replaced the tail with one borrowed from the Debonair, and swapped the four-cylinder Lycoming engines for six-cylinder Continental IO-470s, producing 260 horsepower each. The new aircraft was known as the Baron and finally delivered the performance to compete with the 310 and Apache. More than 7000 Barons have been manufactured, and it remains in production to this day.
Beech 95 Travel Air Insurance Cost:
Aviation insurance in general, is a very specialized industry and premiums vary depending on make and model of the aircraft, hull value, use of the aircraft, pilot history and qualifications and aircraft insurance rates even take into account the loss history of each specific make and model and the loss history of the aviation industry as a whole.
Beech 95 Travel Air insurance, like all aviation insurance, is broken down into 2 specific coverages. The first is Liability Coverage, which is standard on every aircraft insurance policy and the second is optional hull coverage, which covers damage to the aircraft itself.
Beech 95 Travel Air aviation liability insurance covers damage caused by the aircraft, outside of the aircraft, specifically property damage, bodily injury, and provides for legal defense in the event that the aircraft owner or policyholder is sued.
Aircraft liability insurance is typically offered for Beech 95 Travel Air's in amounts between $1,000,000 and $3,000,000 per occurrence (per incident) and includes coverage for passengers, but typically limits that amount to between $100,000 and $1,000,000 per passenger. Passenger liability coverage is included within the total liability coverage amount.
A real-world example of how this aviation liability coverage would protect you: If, as a result of operating your Beech 95 Travel Air you damaged property or caused bodily injury outside of the aircraft, you would have the full amount of total liability coverage to pay for damages that occurred, less the liability amount paid for passengers inside the aircraft. If the aircraft crashed and you had passengers inside the aircraft that were injured, your insurance policy would pay up to the policy passenger limit for each passenger.
This liability coverage also applies as a bubble that follows the aircraft around. If the aircraft is hangered, liability coverage extends throughout your hangar and it is this coverage that airports will typically require you to have. It's not a separate insurance policy, it is actually coverage built into your standards airplane insurance policy.
Other liability options: Higher liability coverage on the Beech 95 Travel Air is available to qualified pilots with experience in the make and model and a minimum Commercial/MEL/IFR license/ratings.
The second coverage on a Beech 95 Travel Air insurance policy is hull coverage and is an optional coverage. Aircraft hull insurance covers damage to the aircraft itself and is an agreed value, not subject to depreciation. Agreed value is decided during the initial insurance quoting process, the aircraft owner requests an insurance quote for his or her Beech 95 Travel Air and requests a quote including hull coverage in the amount of say $90,000. Once an aviation insurance company provides a quote, they are agreeing with you that your aircraft is worth $90,000.
*Insurance companies may place additional stipulations on quotes to prove the value of your aircraft prior to binding, if your agreed value is higher than bluebook.
Most aviation insurance companies do not offer deductibles higher than $0 deductibles, which means in the event of a total loss, if your aircraft was insured for $90,000, you would get a straight check for $90,000.
Beech 95 Travel Air Insurance Cost Breakdown:
As of January 2021, there are 8 carriers quoting Beech 95 Travel Air insurance in the U.S. We consider qualified pilots to have at least a Private License and IFR/MEL ratings, with 1,500 total hours, 500 MEL hours and 25 hours in the make/model.
For an annual policy with $1,000,000 in liability only coverage.
 Premium range for qualified pilots: $750-$1,200 per year.
 Premium range for less than qualified pilots (low-time/etc): $900-$1,400 per year.
For an annual policy with $1,000,000 in liability coverage and $90,000 in hull coverage
 Premium range for qualified pilots: $2,000-$2,800 per year.
 Premium range for less than qualified pilots (low-time/etc): $3,500-$5,600 per year.
BWI is a family-owned, nationwide insurance brokerage specializing in aviation insurance since 1977. Our dedicated Aviation Insurance Professionals are highly trained, hand-picked and experienced in helping Beech 95 Travel Air owners and operators obtain the very best insurance coverage.
BWI offers comprehensive Beech 95 Travel Air insurance policies for personal, business, charter, industrial aid, and commercial aviation uses.
For more information or to get an actual Beech 95 Travel Air insurance quote, please fill out a quote request online here or call us at 800.666.4359
BWI | The Future Of Aviation Insurance
Family Owned Since 1977 | Nationwide | Forward Thinking
What makes us different? Our office is open 12 hours a day, our team is hand-picked, well-trained and every single customer has their own dedicated Aviation Insurance Professional.
*Always consult your insurance policy for exact coverage specifications, exclusions and details.