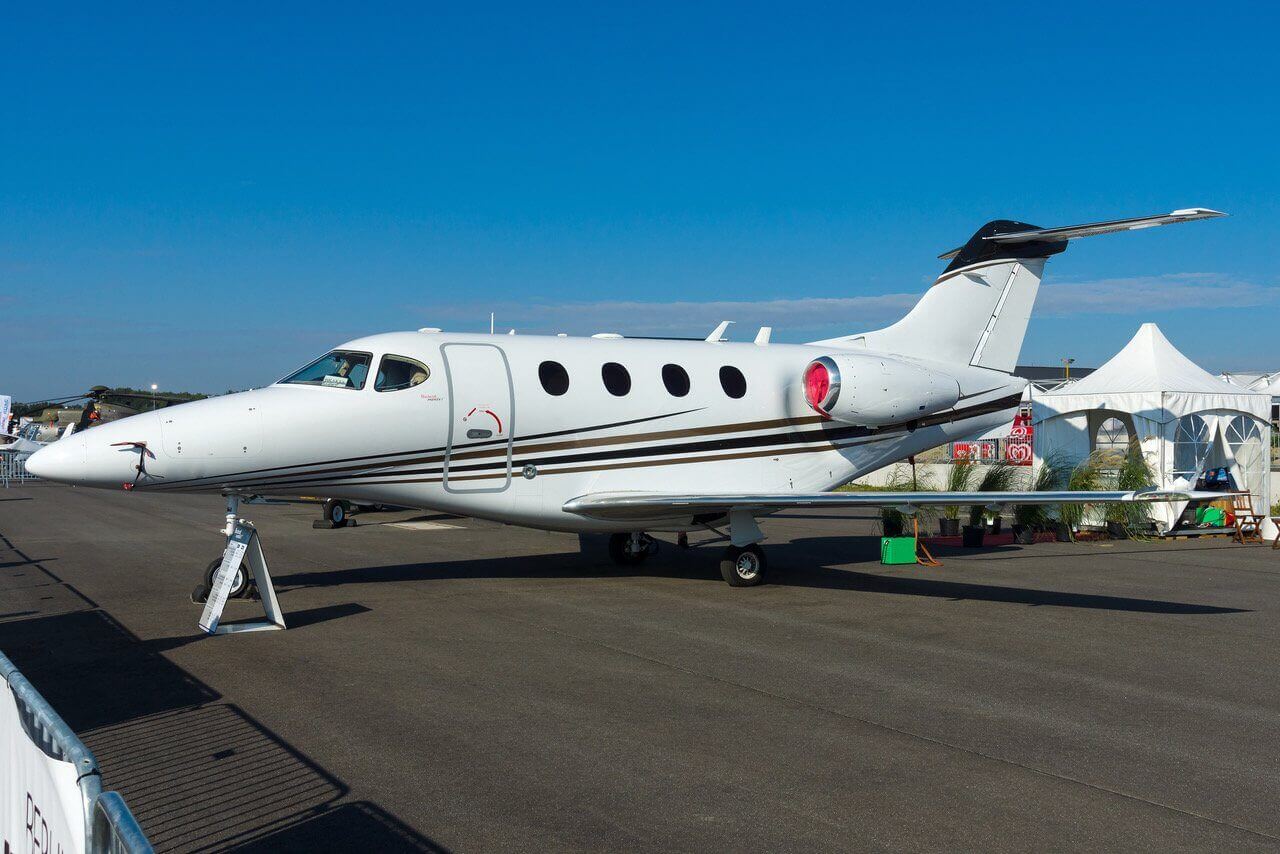 Beechcraft Premier I / IA Overview:
There's a famous quote, frequently and erroneously linked to Eleanor Roosevelt, about speed. Speed is everything in racing, and since the Wright Brothers, aircraft designers and purchasers have pushed for every single knot they could get.
At the 1995 National Business Aviation Association conference, Beechcraft announced the production of a new six to eight passenger light business jet. The design would be targeted squarely at Cessna's CitationJet CJ2 aircraft. Both aircraft weighed in at a maximum takeoff weight of exactly 12,500 pounds in order to keep below the US Federal Aviation Administration's more restrictive Commuter Category requirements. The CJ2 had excellent runway performance, but Cessna had a reputation as the "Slowtation", and Beech aimed to compete by being much faster in an equivalent sized aircraft.
Now known as the Premier, the prototype first flew in late 1998. Similar to their earlier Starship twin-turboprop, Beech made extensive use of carbon fiber composites in the Premier. The primary aircraft fuselage structure and flight controls use this material, allowing a lightweight but extremely strong structure. The thinness of the composites allowed the interior to be larger for an equivalent exterior size, so the passenger experience was closer to a midsize jet than the light jet it was and the strength also allowed larger windows than its competitors, delivering more natural light throughout the cabin. A separate aft lavatory provided privacy and had an optional seat belt available to provide for an additional passenger to be carried.
In the cockpit, Beechcraft utilized the well established Rockwell Collins Proline 21 avionics system. Designed for ease of use by a single pilot, many systems functions were automated and all switches and knobs were designed to be easily reachable from the left seat. Options for different interior configurations included a forward closet, a large galley, or additional storage areas. To provide the thrust needed for their new missile, Beechcraft selected the well-proven Williams FJ44 series of engines. Used on many corporate aircraft, the FJ44 was renowned for simplicity and performance while still maintaining a four thousand hour time before overhaul.
The Premier I entered service in 2001. The Premier IA followed in 2006 with improvements to the cabin appointments, avionics equipment, and brakes. Both aircraft met their goal for speed, with a high-speed cruise of 455 knots and a service ceiling of 41,000 feet.
In 2008, Beechcraft announced the Premier II. It was to feature higher speeds, more range, and increased payloads. Shortly thereafter the market crash of 2008 would bring business aviation to a near standstill and development of the Premier II was paused. Following the merger of Hawker and Beechcraft, the Premier II was known as the Hawker 200 but development work never progressed and the program was terminated with the bankruptcy of Hawker Beechcraft in 2013 with a total of 292 Premier I and IAs produced.
Beechcraft Premier I / IA Insurance Cost:
Aviation insurance in general, is a very specialized industry and premiums vary depending on make and model of the aircraft, hull value, use of the aircraft, pilot history and qualifications and aircraft insurance rates even take into account the loss history of each specific make and model and the loss history of the aviation industry as a whole.
Beechcraft Premier I / IA insurance, like all aviation insurance, is broken down into 2 specific coverages. The first is Liability Coverage, which is standard on every aircraft insurance policy and the second is optional hull coverage, which covers damage to the aircraft itself.
Beechcraft Premier I / IA aviation liability insurance covers damage caused by the aircraft, outside of the aircraft, specifically property damage, bodily injury, and provides for legal defense in the event that the aircraft owner or policyholder is sued.
Aircraft liability insurance is typically offered for Beechcraft Premier I / IA's in amounts between $1,000,000 and $2,000,000 per occurrence (per incident) and includes coverage for passengers, but typically limits that amount to between $100,000 and $1,000,000 per passenger. Passenger liability coverage is included within the total liability coverage amount.
A real-world example of how this aviation liability coverage would protect you: If, as a result of operating your Beechcraft Premier I / IA you damaged property or caused bodily injury outside of the aircraft, you would have the full amount of total liability coverage to pay for damages that occurred, less the liability amount paid for passengers inside the aircraft. If the aircraft crashed and you had passengers inside the aircraft that were injured, your insurance policy would pay up to the policy passenger limit for each passenger.
This liability coverage also applies as a bubble that follows the aircraft around. If the aircraft is hangered, liability coverage extends throughout your hangar and it is this coverage that airports will typically require you to have. It's not a separate insurance policy, it is actually coverage built into your standards airplane insurance policy.
Other liability options: Higher liability coverage on the Beechcraft Premier I / IA is available to qualified pilots with experience in the make and model and a minimum Commercial/MEL/IFR license/ratings.
The second coverage on a Beechcraft Premier I / IA insurance policy is hull coverage and is an optional coverage. Aircraft hull insurance covers damage to the aircraft itself and is an agreed value, not subject to depreciation. Agreed value is decided during the initial insurance quoting process, the aircraft owner requests an insurance quote for his or her Beechcraft Premier I / IA and requests a quote including hull coverage in the amount of say $2,000,000. Once an aviation insurance company provides a quote, they are agreeing with you that your aircraft is worth $2,000,000.
*Insurance companies may place additional stipulations on quotes to prove the value of your aircraft prior to binding, if your agreed value is higher than bluebook.
Most aviation insurance companies do not offer deductibles higher than $0 deductibles, which means in the event of a total loss, if your aircraft was insured for $2,000,000, you would get a straight check for $2,000,000.
Beechcraft Premier I / IA Insurance Cost Breakdown:
As of January 2021, there are 8 carriers quoting Beechcraft Premier I / IA insurance in the U.S. We consider qualified pilots to have at least a Commercial License and IFR/MEL ratings, with 3,000 total hours, 1,000 MEL hours and 50 hours in the make/model.
For an annual policy with $1,000,000 in liability only coverage.
 Premium range for qualified pilots: $8,800-$16,600 per year.
For an annual policy with $1,000,000 in liability coverage and $2,000,000 in hull coverage
 Premium range for qualified pilots: $8,800-$16,600 per year.
BWI is a family-owned, nationwide insurance brokerage specializing in aviation insurance since 1977. Our dedicated Aviation Insurance Professionals are highly trained, hand-picked and experienced in helping Beechcraft Premier I / IA owners and operators obtain the very best insurance coverage.
BWI offers comprehensive Beechcraft Premier I / IA insurance policies for personal, business, charter, industrial aid, and commercial aviation uses.
For more information or to get an actual Beechcraft Premier I / IA insurance quote, please fill out a quote request online here or call us at 800.666.4359
BWI | The Future Of Aviation Insurance
Family Owned Since 1977 | Nationwide | Forward Thinking
What makes us different? Our office is open 12 hours a day, our team is hand-picked, well-trained and every single customer has their own dedicated Aviation Insurance Professional.
*Always consult your insurance policy for exact coverage specifications, exclusions and details.