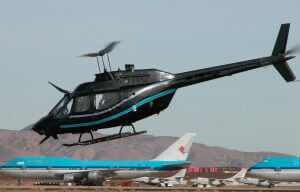 Bell OH-58 Helicopter Overview:
In 1960, the United States Army requested proposals from 25 manufacturers for a new light observation helicopter. Bell was one of numerous responses, submitting their YOH-4 design which was ultimately rejected in 1965. Bell returned to the drawing board to work on the flaws noted in Army testing with a goal of turning it into a civilian helicopter.
Taking the YOH-4 design, Bell extended the fuselage to seat three passengers in a comfortable rear row in addition to the two forward seats and added a sizable baggage compartment underneath the engine. The fuselage was also redesigned to approve the general appearance which had been nicknamed the "ugly duckling" in Army testing. The new design was serialized as the Bell 206 and nicknamed the JetRanger – a design which would go on to have an incredibly successful civilian life of its own. In 1967 the Army would reopen the light observation helicopter bidding process as Hughes Aircraft, which had won the original competition with its OH-6 Cayuse, could not maintain its contracted price and production rate. Bell submitted the new 206 and won the contract for 2,200 airframes with the resulting model designated the OH-58 Kiowa.
The original Kiowa would differ little from the civilian 206 – the rear seating row was designed to accommodate only two passengers (for four total occupants) and the only armament was a single machine gun or grenade launcher mounted to the fuselage. Kiowas began arriving in Vietnam in 1969 and were used for reconnaissance or paired with Huey Cobra aircraft in a "hunter-killer" arrangement where the Kiowa would purposefully attempt to draw fire so the Cobra could then engage the enemy. A frequent complaint in the hot and humid atmosphere of Vietnam was a lack of engine power, which Bell addressed with the OH-58C in 1971, upgrading the Allison turboshaft to 420 horsepower and adding additional weapon mounts.
In the early 1980s, the Army launched the "Army Helicopter Improvement Plan" and the Kiowa would see numerous upgrades. The Allison engine was replaced with a 650 horsepower Rolls Royce model and the two-bladed main rotor was replaced with a quieter and more responsive four-bladed unit. A new beach ball shaped "Mast Mounted Sight" or MMS was mounted above the main rotor, allowing the OH-58 to peek over the top of ridges or buildings and giving the OH-58D its unique look. To power the MMS, the entire rear seat was removed and replaced with electronics along with the structure being strengthened to support additional weapons. Reflecting the new capabilities, the OH-58D was named the Kiowa Warrior and most earlier OH-58s were eventually upgraded. The last OH-58 model was retired from Army service in July of 2020.
Bell OH-58 Insurance Cost:
Aviation insurance in general, is a very specialized industry and premiums vary depending on make and model of the aircraft, hull value, use of the aircraft, pilot history and qualifications and aircraft insurance rates even take into account the loss history of each specific make and model and the loss history of the aviation industry as a whole.
Bell OH-58 insurance, like all aviation insurance, is broken down into 2 specific coverages. The first is Liability Coverage, which is standard on every aircraft insurance policy and the second is optional hull coverage, which covers damage to the aircraft itself.
Bell OH-58 aviation liability insurance covers damage caused by the aircraft, outside of the aircraft, specifically property damage, bodily injury, and provides for legal defense in the event that the aircraft owner or policyholder is sued.
Aircraft liability insurance is typically offered for Bell OH-58's in amounts between $1,000,000 and $20,000,000 per occurrence (per incident) and includes coverage for passengers, but typically limits that amount to between $100,000 and $1,000,000 per passenger. Passenger liability coverage is included within the total liability coverage amount.
A real-world example of how this aviation liability coverage would protect you: If, as a result of operating your Bell OH-58 you damaged property or caused bodily injury outside of the aircraft, you would have the full amount of total liability coverage to pay for damages that occurred, less the liability amount paid for passengers inside the aircraft. If the aircraft crashed and you had passengers inside the aircraft that were injured, your insurance policy would pay up to the policy passenger limit for each passenger.
This liability coverage also applies as a bubble that follows the aircraft around. If the aircraft is hangered, liability coverage extends throughout your hangar and it is this coverage that airports will typically require you to have. It's not a separate insurance policy, it is actually coverage built into your standards airplane insurance policy.
Other liability options: Higher liability coverage on the Bell OH-58 is available to qualified pilots with experience in the make and model and a minimum Commercial/RW/IFR license/Ratings and commercial helicopter uses.
The second coverage on a Bell OH-58 insurance policy is hull coverage and is an optional coverage. Aircraft hull insurance covers damage to the aircraft itself and is an agreed value, not subject to depreciation. Agreed value is decided during the initial insurance quoting process, the aircraft owner requests an insurance quote for his or her Bell OH-58 and requests a quote including hull coverage in the amount of say $100,000. Once an aviation insurance company provides a quote, they are agreeing with you that your aircraft is worth $100,000
*Insurance companies may place additional stipulations on quotes to prove the value of your aircraft prior to binding, if your agreed value is higher than bluebook.
Most aviation insurance companies do not offer deductibles higher than $0 deductibles, which means in the event of a total loss, if your aircraft was insured for $100,000, you would get a straight check for $100,000.
Bell OH-58 Insurance Cost Breakdown:
As of January 2021, there are 7 carriers quoting Bell OH-58 insurance in the U.S. We consider qualified pilots to have at least a private/rotor-wing license, with 500 total hours, 250 rotor-wing hours and 50 hours in the make/model.
For an annual policy with $1,000,000 in liability only coverage.
 Premium range for qualified pilots: $1,500-$1,750 per year.
 Premium range for less than qualified pilots (low-time/etc): $1,750-$2,700 per year.
For an annual policy with $1,000,000 in liability coverage and $100,000 in hull coverage
 Premium range for qualified pilots: $2,500-$3,700 per year.
 Premium range for less than qualified pilots (low-time/etc): $4,500-$5,700 per year.
BWI is a family-owned, nationwide insurance brokerage specializing in aviation insurance since 1977. Our dedicated Aviation Insurance Professionals are highly trained, hand-picked and experienced in helping Bell OH-58 owners and operators obtain the very best insurance coverage.
BWI offers comprehensive Bell OH-58 insurance policies for personal, business, charter, industrial aid, and commercial helicopter uses.
For more information or to get an actual Bell OH-58 insurance quote, please fill out a quote request online here or call us at 800.666.4359
BWI | The Future Of Aviation Insurance
Family Owned Since 1977 | Nationwide | Forward Thinking
What makes us different? Our office is open 12 hours a day, our team is hand-picked, well-trained and every single customer has their own dedicated Aviation Insurance Professional.
*Always consult your insurance policy for exact coverage specifications, exclusions and details.