Visit Us at Booth C10417M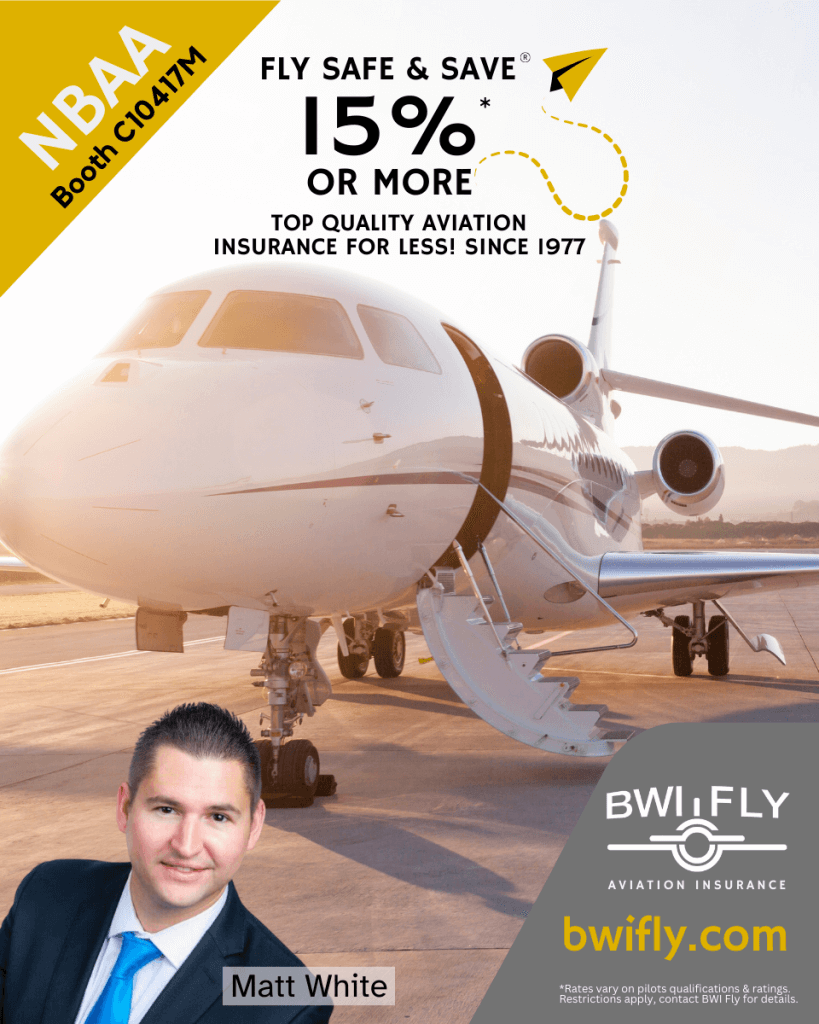 Your Premier Aviation Insurance Partner
---
Welcome to NBAA-BACE 2023!
BWI Aviation Insurance is thrilled to announce our debut exhibition at the prestigious NBAA-BACE event in Las Vegas. We're excited to bring our extensive expertise in aviation insurance to this premier industry gathering. This year, we're not just attending; we're making our mark, and we want you to be a part of it.
---
About NBAA and NBAA-BACE
NBAA (National Business Aviation Association) is a leading organization dedicated to promoting and advocating for the business aviation industry. For over seven decades, NBAA has been at the forefront of this dynamic industry, supporting businesses that rely on general aviation aircraft to help make their operations more efficient, productive, and successful.
NBAA-BACE (Business Aviation Convention & Exhibition) is the flagship event of the National Business Aviation Association. It is one of the most significant gatherings in the world for the business aviation industry. This event annually brings together aviation professionals, key industry players, and enthusiasts from across the globe. With a strong focus on networking, learning, and innovation, NBAA-BACE is where the aviation community unites to discuss the latest developments, showcase cutting-edge technology, and shape the future of business aviation.
---
Who You'll Meet at Booth C10417M
Matt White
Business Owner
Email: Matt.White@bwifly.com
Matt is the visionary behind BWI Aviation Insurance. His dedication and passion for the aviation industry have led to the development of an insurance agency that truly understands the needs of aviation professionals. Meet Matt at our booth and gain insights into the future of aviation insurance.
Kristen Suarez
Executive Manager
Email: Kristen.Suarez@bwifly.com
Kristen is the driving force behind BWI's commitment to customer satisfaction and excellence. Her experience in aviation insurance and her dedication to your peace of mind make her the go-to expert for any insurance-related questions or needs.
Jackie Sallee
Aviation Insurance Professional – New Business Sales Team
Email: Jackie.Sallee@bwifly.com
Jackie is an integral part of our new business sales team, dedicated to providing the best insurance solutions for our valued clients. Whether you have questions about coverage, claims, or anything else related to aviation insurance, Jackie will be there to assist you.
Alicia Oliver
Key Account Manager – Taking Care of Our Very Best Customers
Email: Alicia.Oliver@bwifly.com
Alicia plays a pivotal role in our team, ensuring that our top customers receive personalized attention and the best solutions. Her extensive knowledge of the aviation industry and dedication to customer satisfaction make her the go-to expert for our most valued clients.
---
What to Expect at Our Booth
Expert Consultations: Meet our team members for in-depth discussions about your aviation insurance needs.
Insurance Solutions: Discover our customized insurance solutions for aircraft owners, operators, and businesses in the aviation industry.
Networking: Connect with industry experts, fellow aviation professionals, and explore potential partnerships.
Exclusive Insights: Gain exclusive insights into the future of aviation insurance and risk management.
---
Visit Us at Booth C10417M
Join us at booth C10417M to connect with the BWI Aviation Insurance team and explore how we can enhance your aviation insurance experience. Together, let's secure the skies and your peace of mind.
See you at NBAA-BACE 2023 in Las Vegas!
---
Event Details
Date: 10/17/2023-10/19/2023
Location: Las Vegas Convention Center
Booth: C10417M
Contact Us Today
For any pre-event inquiries or to schedule a one-on-one meeting, please reach out to our team:
Email: info@bwifly.com
Phone: 800.666.4359
BWI Aviation Insurance
The Future of Aviation Insurance