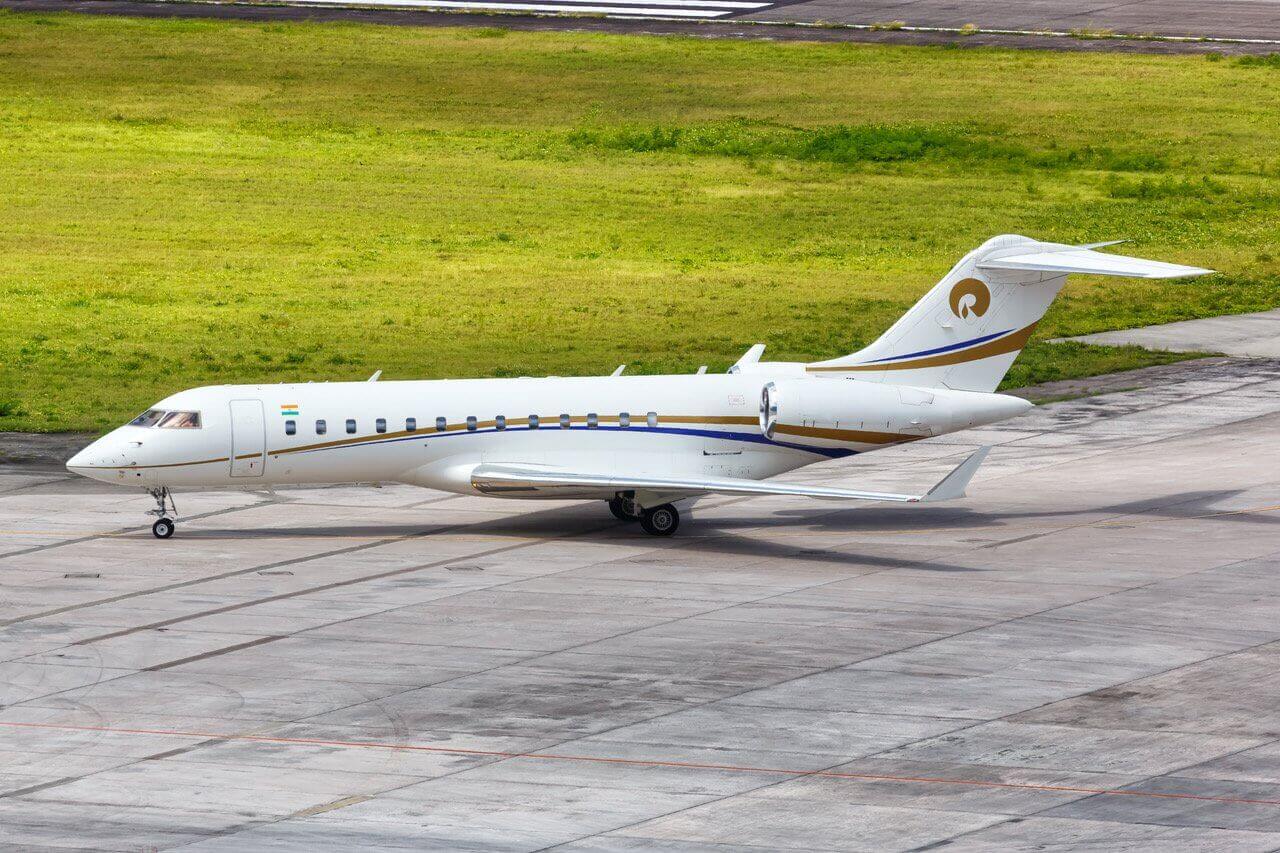 Bombardier Global Express Overview:
In the mid-1990s, Canadian manufacturer Bombardier had grown into an aviation powerhouse. The company, frequently associated with its incredibly successful line of snowmobiles, had acquired Canadair and their Challenger 600-series business jet line in 1986 and turned it into a highly profitable product. The design had been grown into the CRJ series of regional airliners, launched in 1989, which was rapidly selling especially in North America.
Bombardier began studying a long range business jet shortly after the acquisition and by 1991 the design had shown enough merit to be introduced at the National Business Aviation Association (NBAA) convention as the Global Express. By 1994 the design team had reached the final configuration which would serve to introduce a competitor to Gulfstream's long range line.
Bombardier took the cabin structure shared by the Challenger and CRJ and expanded it to 48 feet in length, allowing seating of up to 13 to 17 passengers in high comfort. An all new massive wing design served to reduce drag with an advanced supercritical airfoil while also allowing space for cavernous fuel tanks, allowing range in the initial models to be over 6,500 nautical miles, thoroughly beating their Gulfstream competitors. A cockpit based on the proven avionics of the CRJ airliner was used, while the Rolls-Royce BR710 engines were selected, giving the Global excellent runway performance and a maximum cruise speed of nearly 500 knots.
Customers were given huge flexibility in interior designs, and the aircraft could be delivered as completed or with a bare interior, allowing purchasers to take it to a shop of their choice for customization. A frequently chosen configuration used a four seat forward club configuration, a central four seat table arrangement, and an aft compartment with a three seat divan across from a single set of club seats. Other options included private beds and full dining areas. Reflecting their excellent range and endurance, most Global Express deliveries included a large forward galley capable of preparing hot meals as well as a forward crew rest compartment and separate crew lavatory. Based heavily on the knowledge from the CRJ, Bombardier planned long term airline style maintenance to improve reliability and reduce scheduled downtime.
Later models would serve to expand on the strengths of the Global in different ways. The Global 5000 would trade some space and fuel capacity to produce a shorter, lighter aircraft that increased cruise speed and reduced fuel burn for operators which did not require maximum range. In 2018, the Global 6500 and 5500 (replacing the 6000 and 5000, respectively) would provide increased range, reduced fuel consumption, as well as a bump in cruise speed to almost 520 knots. The Global remains in production, with nearly a thousand built and several hundred more on order. In addition to widespread use by corporations, individuals, and charter companies, the merits of the aircraft have led to it being adopted as official head of state transport for a number of countries around the world.
Bombardier Global Express Insurance Cost:
Aviation insurance in general, is a very specialized industry and premiums vary depending on make and model of the aircraft, hull value, use of the aircraft, pilot history and qualifications and aircraft insurance rates even take into account the loss history of each specific make and model and the loss history of the aviation industry as a whole.
Bombardier Global Express insurance, like all aviation insurance, is broken down into 2 specific coverages. The first is Liability Coverage, which is standard on every aircraft insurance policy and the second is optional hull coverage, which covers damage to the aircraft itself.
Bombardier Global Express aviation liability insurance covers damage caused by the aircraft, outside of the aircraft, specifically property damage, bodily injury, and provides for legal defense in the event that the aircraft owner or policyholder is sued.
Aircraft liability insurance is typically offered for Bombardier Global Express's in amounts between $1,000,000 and $50,000,000 per occurrence (per incident) and includes coverage for passengers, but typically limits that amount to between $100,000 and $1,000,000 per passenger. Passenger liability coverage is included within the total liability coverage amount.
A real-world example of how this aviation liability coverage would protect you: If, as a result of operating your Bombardier Global Express you damaged property or caused bodily injury outside of the aircraft, you would have the full amount of total liability coverage to pay for damages that occurred, less the liability amount paid for passengers inside the aircraft. If the aircraft crashed and you had passengers inside the aircraft that were injured, your insurance policy would pay up to the policy passenger limit for each passenger.
This liability coverage also applies as a bubble that follows the aircraft around. If the aircraft is hangered, liability coverage extends throughout your hangar and it is this coverage that airports will typically require you to have. It's not a separate insurance policy, it is actually coverage built into your standards airplane insurance policy.
Other liability options: Higher liability coverage on the Bombardier Global Express is available to qualified pilots with experience in the make and model and a minimum Commercial/MEL/IFR license/ratings.
The second coverage on a Bombardier Global Express insurance policy is hull coverage and is an optional coverage. Aircraft hull insurance covers damage to the aircraft itself and is an agreed value, not subject to depreciation. Agreed value is decided during the initial insurance quoting process, the aircraft owner requests an insurance quote for his or her Bombardier Global Express and requests a quote including hull coverage in the amount of say $50,000,000. Once an aviation insurance company provides a quote, they are agreeing with you that your aircraft is worth $50,000,000.
*Insurance companies may place additional stipulations on quotes to prove the value of your aircraft prior to binding, if your agreed value is higher than bluebook.
Most aviation insurance companies do not offer deductibles higher than $0 deductibles, which means in the event of a total loss, if your aircraft was insured for $50,000,000, you would get a straight check for $50,000,000.
Bombardier Global Express Insurance Cost Breakdown:
As of January 2021, there are 8 carriers quoting Bombardier Global Express insurance in the U.S. We consider qualified pilots to have at least a Commercial License and IFR/MEL ratings, with 3,000 total hours, 1,000 MEL hours and 50 hours in the make/model.
For an annual policy with $1,000,000 in liability only coverage.
 Premium range for qualified pilots: $3,450-$5,800 per year.
For an annual policy with $1,000,000 in liability coverage and $50,000,000 in hull coverage
 Premium range for qualified pilots: $45,800-$57,600 per year.
BWI is a family-owned, nationwide insurance brokerage specializing in aviation insurance since 1977. Our dedicated Aviation Insurance Professionals are highly trained, hand-picked and experienced in helping Bombardier Global Express owners and operators obtain the very best insurance coverage.
BWI offers comprehensive Bombardier Global Express insurance policies for personal, business, charter, industrial aid, and commercial aviation uses.
For more information or to get an actual Bombardier Global Express insurance quote, please fill out a quote request online here or call us at 800.666.4359
BWI | The Future Of Aviation Insurance
Family Owned Since 1977 | Nationwide | Forward Thinking
What makes us different? Our office is open 12 hours a day, our team is hand-picked, well-trained and every single customer has their own dedicated Aviation Insurance Professional.
*Always consult your insurance policy for exact coverage specifications, exclusions and details.