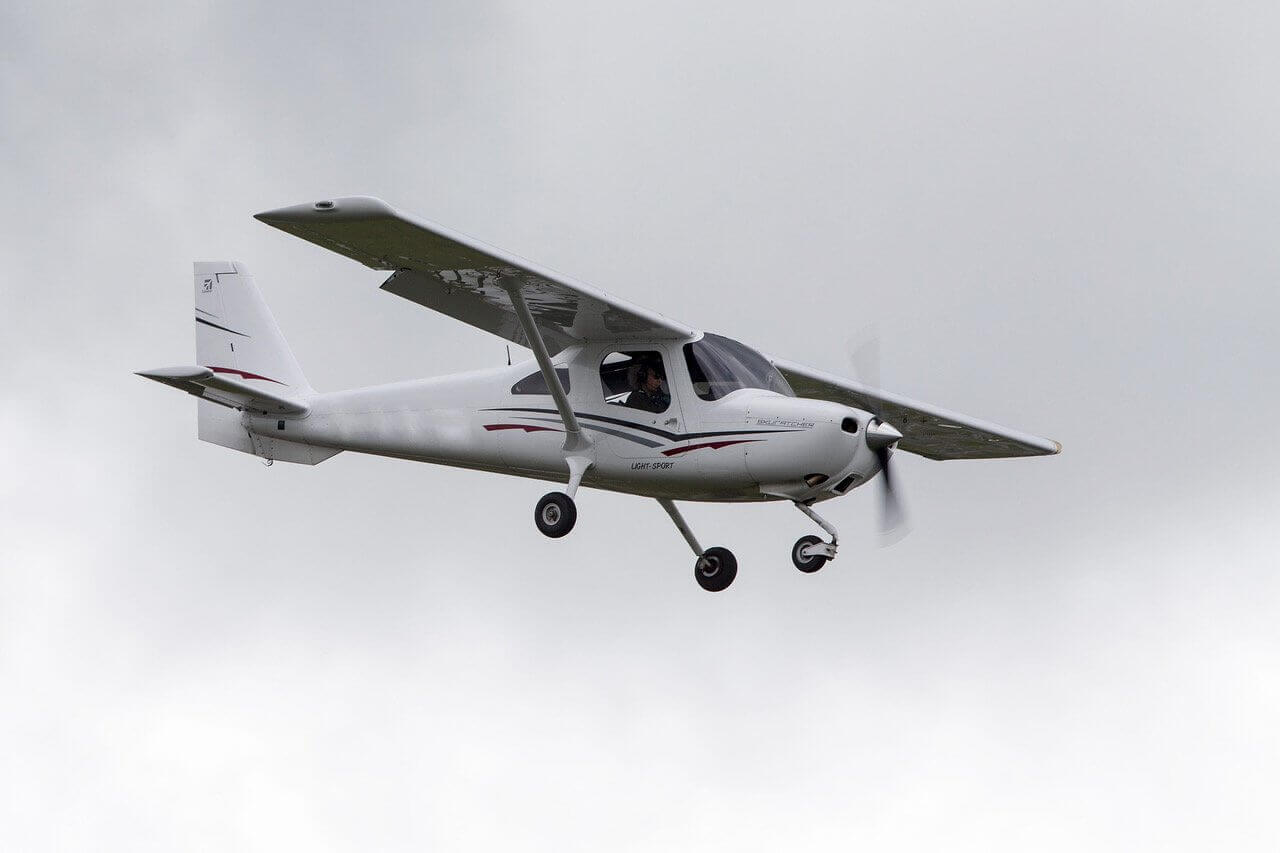 Cessna 162 Skycatcher Overview:
The Cessna 162 Skycatcher is a two-seater, tricycle gear, Light-Sport Aircraft (LSA) that was produced by the Cessna Aircraft Company between December 2009 and December 2013, with an intended market of flight schools and personal use.
After initially announcing 900 orders for the aircraft, Cessna only produced 275 of the aircraft, which has a useful load of about 480-490 pounds with a full 24 gallons of fuel on board. All 162 Skycatcher models are equipped with glass panels (Garmin G300) on the pilot side, with a second panel on the and co-pilot side available as an option. The aircraft is approved for day and night VFR operations, but can be used for IFR training in VFR conditions. The 162 Skycatcher is unique as the first Cessna to have doors that open out and up, and the aircraft is approved to taxi with doors full up. Rather than the traditional yoke, the aircraft has a control stick.
Standard 162 Skycatcher equipment includes an all-metal, fixed-pitch McCauley propeller, and a 100-hp Continental O-200D engine, which burns 5.5 to 6 gph at max cruise, and tops out at about 118 knots. Competitor aircraft include the Flight Design CTLS, the Tecnam Eaglet, and the Remos GX.
The 162 Skycatcher was built, test-flown, and certified in Shenyang, China, and then was disassembled, put in a shipping container, and shipped to Independence, Kansas, for reassembly and sale.
There have been several 162 Skycatcher crashes reported over the years:
July 29, 2019 in Uintah County, Utah
November 16, 2018 in Franklin, North Carolina
February 22, 2018 in Myakka, Manatee County, Florida
April 13, 2015 in Shelter Island, New York
September 19, 2014 in Borrego Springs, California.
Cessna 162 Skycatcher Insurance Cost:
Aviation insurance in general, is a very specialized industry and premiums vary depending on make and model of the aircraft, hull value, use of the aircraft, pilot history and qualifications and aircraft insurance rates even take into account the loss history of each specific make and model and the loss history of the aviation industry as a whole.
Cessna 162 Skycatcher insurance, like all aviation insurance, is broken down into 2 specific coverages. The first is Liability Coverage, which is standard on every aircraft insurance policy and the second is optional hull coverage, which covers damage to the aircraft itself.
Cessna 162 Skycatcher aviation liability insurance covers damage caused by the aircraft, outside of the aircraft, specifically property damage, bodily injury, and provides for legal defense in the event that the aircraft owner or policyholder is sued.
Aircraft liability insurance is typically offered for Cessna 162 Skycatcher's at $1,000,000 per occurrence (per incident) and includes coverage for passengers, but typically limits that amount to between $100,000 and $1,000,000 per passenger. Passenger liability coverage is included within the total liability coverage amount.
A real-world example of how this aviation liability coverage would protect you: If, as a result of operating your Cessna 162 Skycatcher you damaged property or caused bodily injury outside of the aircraft, you would have the full amount of total liability coverage to pay for damages that occurred, less the liability amount paid for passengers inside the aircraft. If the aircraft crashed and you had passengers inside the aircraft that were injured, your insurance policy would pay up to the policy passenger limit for each passenger.
This liability coverage also applies as a bubble that follows the aircraft around. If the aircraft is hangered, liability coverage extends throughout your hangar and it is this coverage that airports will typically require you to have. It's not a separate insurance policy, it is actually coverage built into your standards airplane insurance policy.
Other liability options: Higher liability coverage on the Cessna 162 Skycatcher may be available to qualified pilots with experience in the make and model and a minimum Private License/IFR rating.
The second coverage on a Cessna 162 Skycatcher insurance policy is hull coverage and is an optional coverage. Aircraft hull insurance covers damage to the aircraft itself and is an agreed value, not subject to depreciation. Agreed value is decided during the initial insurance quoting process, the aircraft owner requests an insurance quote for his or her Cessna 162 Skycatcher and requests a quote including hull coverage in the amount of say $78,000. Once an aviation insurance company provides a quote, they are agreeing with you that your aircraft is worth $78,000.
*Insurance companies may place additional stipulations on quotes to prove the value of your aircraft prior to binding, if your agreed value is higher than bluebook.
Most aviation insurance companies do not offer deductibles higher than $0 deductibles, which means in the event of a total loss, if your aircraft was insured for $78,000, you would get a straight check for $78,000.
Cessna 162 Skycatcher Insurance Cost Breakdown:
As of January 2021, there are 8 carriers quoting Cessna 162 Skycatcher insurance in the U.S. We consider qualified pilots to have at least a Private License with 200 total hours and 25 hours in the make/model.
For an annual policy with $1,000,000 in liability only coverage.
 Premium range for qualified pilots: $850-$1,050 per year.
 Premium range for less than qualified pilots (low-time/etc): $675-950 per year.
For an annual policy with $1,000,000 in liability coverage and $78,000 in hull coverage
 Premium range for qualified pilots: $1,200-$2,800 per year.
 Premium range for less than qualified pilots (low-time/etc): $2,950-$6,700 per year.
BWI is a family-owned, nationwide insurance brokerage specializing in aviation insurance since 1977. Our dedicated Aviation Insurance Professionals are highly trained, hand-picked and experienced in helping Cessna 162 Skycatcher owners and operators obtain the very best insurance coverage.
BWI offers comprehensive Cessna 162 Skycatcher insurance policies for personal, business, charter, industrial aid, and commercial aviation uses.
For more information or to get an actual Cessna 162 Skycatcher insurance quote, please fill out a quote request online here or call us at 800.666.4359
BWI | The Future Of Aviation Insurance
Family Owned Since 1977 | Nationwide | Forward Thinking
What makes us different? Our office is open 12 hours a day, our team is hand-picked, well-trained and every single customer has their own dedicated Aviation Insurance Professional.
*Always consult your insurance policy for exact coverage specifications, exclusions and details.