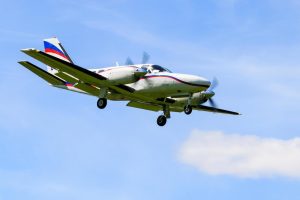 Cessna 441 Conquest II Overview:
In the late 1970s, Cessna was scrambling to fill the "turboprop gap" in their product lines. Though offering a large number of cabin class piston twins and with the corporate jet Citation line selling very well, Cessna had no competition to offer to Beechcraft's King Air nor Piper's Cheyenne.
In the rush to get models to production both of the new designs were based on successful piston twins. The larger of these two models would borrow heavily from the Cessna 404 Titan – the largest of the Cessna twins. Coming from the Titan was the basic fuselage size and exterior look, but major structural changes including the replacement of the Titan's unique sharply squared windows and a strengthening of the cabin door frame allowed for the addition of a 6.3 psi (pounds per square inch) pressurization system, beating both Beechcraft and Piper's competing designs. The Titan's massive and heavy Continental piston engines were replaced by 635 horsepower Garrett TPE331 turboprops. Unlike the Pratt & Whitney engines used in competitors, the Garrett engines were a direct drive turboprop offering greater fuel efficiency and faster response. A wing design also based on the Titan was expanded slightly to accommodate the new engines and bumped fuel capacity to an incredible 475 gallons, far exceeding any turboprop in production at the time.
The efficient engines and great fuel capacity gave the new Model 441 a prodigious amount of range and made coast to coast flights eastbound a reality, surpassing even what Cessna's early business jet line could do. To make this flight doable for passengers, the 441 included a small aft lavatory and refreshment center as well as comfortable seating for up to ten passengers.
The 441 would initially be named "Conquest" but in a confusing reorganization in 1983 Cessna would rename the turboprop Model 425 (formerly known as the Corsair) to Conquest and redesignate the 441 as the Conquest II. The renaming signaled Cessna's vision of the start of a line of turboprop Conquest products to parallel their growing Citation jet dynasty.
Unfortunately, the crashing market conditions of the early and mid-1980s across all of general aviation would also mean the end of the Conquest line and by 1986 both models were out of production. The Model 441 would tally a total of 362 sales. 35 years later, demand for the unique capability offered by the 441 remains strong. Most 441s have been upgraded with more powerful versions of the Garrett engines offering cruise speeds in excess of 300 knots at 35,000 feet, keeping the Conquest II viable well into the 21st century.
Cessna 441 Conquest II Insurance Cost:
Aviation insurance in general, is a very specialized industry and premiums vary depending on make and model of the aircraft, hull value, use of the aircraft, pilot history and qualifications and aircraft insurance rates even take into account the loss history of each specific make and model and the loss history of the aviation industry as a whole.
Cessna 441 Conquest II insurance, like all aviation insurance, is broken down into 2 specific coverages. The first is Liability Coverage, which is standard on every aircraft insurance policy and the second is optional hull coverage, which covers damage to the aircraft itself.
Cessna 441 Conquest II aviation liability insurance covers damage caused by the aircraft, outside of the aircraft, specifically property damage, bodily injury, and provides for legal defense in the event that the aircraft owner or policyholder is sued.
Aircraft liability insurance is typically offered for Cessna 441 Conquest II's in amounts between $1,000,000 and $1,250,000 per occurrence (per incident) and includes coverage for passengers, but typically limits that amount to between $100,000 and $1,000,000 per passenger. Passenger liability coverage is included within the total liability coverage amount.
A real-world example of how this aviation liability coverage would protect you: If, as a result of operating your Cessna 441 Conquest II you damaged property or caused bodily injury outside of the aircraft, you would have the full amount of total liability coverage to pay for damages that occurred, less the liability amount paid for passengers inside the aircraft. If the aircraft crashed and you had passengers inside the aircraft that were injured, your insurance policy would pay up to the policy passenger limit for each passenger.
This liability coverage also applies as a bubble that follows the aircraft around. If the aircraft is hangered, liability coverage extends throughout your hangar and it is this coverage that airports will typically require you to have. It's not a separate insurance policy, it is actually coverage built into your standards airplane insurance policy.
Other liability options: Higher liability coverage on the Cessna 441 Conquest II is available to qualified pilots with experience in the make and model and a minimum Commercial/MEL/IFR license/ratings.
The second coverage on a Cessna 441 Conquest II insurance policy is hull coverage and is an optional coverage. Aircraft hull insurance covers damage to the aircraft itself and is an agreed value, not subject to depreciation. Agreed value is decided during the initial insurance quoting process, the aircraft owner requests an insurance quote for his or her Cessna 441 Conquest II and requests a quote including hull coverage in the amount of say $1,250,000. Once an aviation insurance company provides a quote, they are agreeing with you that your aircraft is worth $1,250,000.
*Insurance companies may place additional stipulations on quotes to prove the value of your aircraft prior to binding, if your agreed value is higher than bluebook.
Most aviation insurance companies do not offer deductibles higher than $0 deductibles, which means in the event of a total loss, if your aircraft was insured for $1,250,000, you would get a straight check for $1,250,000.
Cessna 441 Conquest II Insurance Cost Breakdown:
As of January 2021, there are 8 carriers quoting Cessna 441 Conquest II insurance in the U.S. We consider qualified pilots to have at least a Commercial License and IFR/MEL ratings, with 3,000 total hours, 1,000 MEL hours and 50 hours in the make/model.
For an annual policy with $1,000,000 in liability only coverage.
 Premium range for qualified pilots: $1,250-$1,600 per year..
For an annual policy with $1,000,000 in liability coverage and $1,250,000 in hull coverage
 Premium range for qualified pilots: $6,800-$9,600 per year.
BWI is a family-owned, nationwide insurance brokerage specializing in aviation insurance since 1977. Our dedicated Aviation Insurance Professionals are highly trained, hand-picked and experienced in helping Cessna 441 Conquest II owners and operators obtain the very best insurance coverage.
BWI offers comprehensive Cessna 441 Conquest II insurance policies for personal, business, charter, industrial aid, and commercial aviation uses.
For more information or to get an actual Cessna 441 Conquest II insurance quote, please fill out a quote request online here or call us at 800.666.4359
BWI | The Future Of Aviation Insurance
Family Owned Since 1977 | Nationwide | Forward Thinking
What makes us different? Our office is open 12 hours a day, our team is hand-picked, well-trained and every single customer has their own dedicated Aviation Insurance Professional.
*Always consult your insurance policy for exact coverage specifications, exclusions and details.