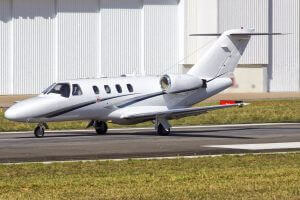 Cessna 525 Citationjet Overview:
By the late 1980s, Cessna had moved from not only a manufacturer of small general aviation aircraft but also a powerhouse in business aviation. The Citation 500 and 550 series had produced thousands of aircraft but was still based on an aircraft conceived in the 1960s. Cessna announced the introduction of a purpose-built replacement and dubbed the new model the 525 CitationJet at its introduction at the 1989 National Business Aviation Association trade show.
Cessna borrowed the forward fuselage from the Citation II but integrated a newer cockpit design designed for a single pilot with electronic instrumentation and a global positioning system. A new supercritical wing design used engine bleed air for anti-icing, replacing the rubber boot system used in earlier Citation aircraft. Williams FJ44 engines replaced the thirsty JT15s on earlier Citations, greatly reducing both fuel consumption and maintenance requirements.
First flight took place in April 1991 and after a thorough testing program deliveries of the "CJ" began in March 1993. All models would share a similar design – a forward galley and either a divan or single seat followed by a set of club seats in the main cabin and an enclosed rear lavatory. Possibly the biggest change to the line was ironically the first – in 1997 the CJ1 introduced the Rockwell Collins Proline 21 avionics system, setting the groundwork for future models which would share this common system. In 2000, the CJ2 would be introduced featuring a modest stretch to accommodate two more passengers in an additional rear seat row. The CJ1+ and CJ2+ would modernize their respective designs with upgraded engines offering full authority digital engine control (FADEC) reducing pilot workload while increasing power and responsiveness. The CJ3 would follow in 2004, maintaining the size of the CJ2+ but allowing more payload capability.
Though these earlier models of the CJ series would come and go, three remain in production as of 2021. The M2 keeps the cabin size of the CJ1+ but incorporates modern Garmin avionics, updated interior furnishings, and newer engine versions. The CJ3+ does the same for the CJ3. Finally, the CJ4 serves as the flagship of the line; a larger design featuring an all new wing based on technologies from the Citation Sovereign and offering a cruising speed of 420 knots with a range of over 2000 nautical miles.
Ultimately the CJ series would succeed in its design goal of replacing the earlier Citation lines. The last of the original derivatives of the Citation 500/550, the Bravo, would be closed out of production in 2006. Over two thousand CJs of all varieties have been produced and the M2, CJ3+, and CJ4 boast healthy backorders.
Cessna 525 Citationjet Insurance Cost:
Aviation insurance in general, is a very specialized industry and premiums vary depending on make and model of the aircraft, hull value, use of the aircraft, pilot history and qualifications and aircraft insurance rates even take into account the loss history of each specific make and model and the loss history of the aviation industry as a whole.
Cessna 525 Citationjet insurance, like all aviation insurance, is broken down into 2 specific coverages. The first is Liability Coverage, which is standard on every aircraft insurance policy and the second is optional hull coverage, which covers damage to the aircraft itself.
Cessna 525 Citationjet aviation liability insurance covers damage caused by the aircraft, outside of the aircraft, specifically property damage, bodily injury, and provides for legal defense in the event that the aircraft owner or policyholder is sued.
Aircraft liability insurance is typically offered for Cessna 525 Citationjet's in amounts between $1,000,000 and $1,000,000 per occurrence (per incident) and includes coverage for passengers, but typically limits that amount to between $100,000 and $1,000,000 per passenger. Passenger liability coverage is included within the total liability coverage amount.
A real-world example of how this aviation liability coverage would protect you: If, as a result of operating your Cessna 525 Citationjet you damaged property or caused bodily injury outside of the aircraft, you would have the full amount of total liability coverage to pay for damages that occurred, less the liability amount paid for passengers inside the aircraft. If the aircraft crashed and you had passengers inside the aircraft that were injured, your insurance policy would pay up to the policy passenger limit for each passenger.
This liability coverage also applies as a bubble that follows the aircraft around. If the aircraft is hangered, liability coverage extends throughout your hangar and it is this coverage that airports will typically require you to have. It's not a separate insurance policy, it is actually coverage built into your standards airplane insurance policy.
Other liability options: Higher liability coverage on the Cessna 525 Citationjet is available to qualified pilots with experience in the make and model and a minimum Commercial/MEL/IFR license/ratings.
The second coverage on a Cessna 525 Citationjet insurance policy is hull coverage and is an optional coverage. Aircraft hull insurance covers damage to the aircraft itself and is an agreed value, not subject to depreciation. Agreed value is decided during the initial insurance quoting process, the aircraft owner requests an insurance quote for his or her Cessna 525 Citationjet and requests a quote including hull coverage in the amount of say $1,000,000. Once an aviation insurance company provides a quote, they are agreeing with you that your aircraft is worth $1,000,000.
*Insurance companies may place additional stipulations on quotes to prove the value of your aircraft prior to binding, if your agreed value is higher than bluebook.
Most aviation insurance companies do not offer deductibles higher than $0 deductibles, which means in the event of a total loss, if your aircraft was insured for $1,000,000, you would get a straight check for $1,000,000.
Cessna 525 Citationjet Insurance Cost Breakdown:
As of January 2021, there are 8 carriers quoting Cessna 525 Citationjet insurance in the U.S. We consider qualified pilots to have at least a Commercial License and IFR/MEL ratings, with 3,000 total hours, 1,000 MEL hours and 50 hours in the make/model.
For an annual policy with $1,000,000 in liability only coverage.
 Premium range for qualified pilots: $1,250-$1,600 per year.
For an annual policy with $1,000,000 in liability coverage and $1,000,000 in hull coverage
 Premium range for qualified pilots: $8,800-$12,600 per year.
BWI is a family-owned, nationwide insurance brokerage specializing in aviation insurance since 1977. Our dedicated Aviation Insurance Professionals are highly trained, hand-picked and experienced in helping Cessna 525 Citationjet owners and operators obtain the very best insurance coverage.
BWI offers comprehensive Cessna 525 Citationjet insurance policies for personal, business, charter, industrial aid, and commercial aviation uses.
For more information or to get an actual Cessna 525 Citationjet insurance quote, please fill out a quote request online here or call us at 800.666.4359
BWI | The Future Of Aviation Insurance
Family Owned Since 1977 | Nationwide | Forward Thinking
What makes us different? Our office is open 12 hours a day, our team is hand-picked, well-trained and every single customer has their own dedicated Aviation Insurance Professional.
*Always consult your insurance policy for exact coverage specifications, exclusions and details.