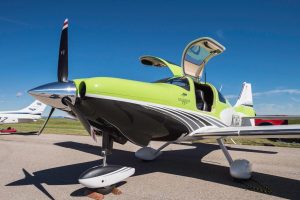 Columbia 350 Overview:
The early 1990s were a dire time for general aviation. Skyrocketing fuel prices in the early 1980s had drastically slowed production and the constant threat of liability lawsuits following accidents had squeezed the remaining manufacturers to the point of closing product lines that had been in continuous production for decades.
Meanwhile, experimental aviation was flourishing. Unburdened by the threat of corporate lawsuits and with highly efficient and excellently performing designs, companies like Vans and Lancair were producing kits targeting multiple segments of general aviation. At Lancair, high tech composite designs were setting new records for speed, altitude, and long-range flying. By 1994, the four-seat Lancair ES was the pinnacle of the line and boasted a cruise speed of nearly 200 knots.
At the same time, NASA was investing in the AGATE project, hoping to revitalize general aviation. A Lancair ES was used as a testbed for AGATE avionics designs, and ultimately Lancair was encouraged to push for certification of the aircraft. Lancair spun off a new company, Pacific Aviation Composites, to produce certified versions of their kit aircraft, where the certified version of the ES would be known as the model 300.
Though the model 300 would be the fastest fixed landing gear single-engine plane in the world at the time of its introduction it would be followed on with the model 400 which brought a glass cockpit and turbocharged engine allowing even more performance. The glass cockpit would later be incorporated to the model 300, resulting in the model 350.
By 2005, Pacific Aviation Composites had been rebranded as Columbia Aviation. The Model 350 kept the all-composite design based around the original Lancair ES as well as the 310 horsepower Continental IO-550 engine from the original model 300. The Garmin avionics provided a user friendly and highly capable system known by Columbia as "Highway in the Sky".
In 2007, it was announced that Cessna would purchase Columbia Aircraft and integrate the models 350 and 400 as the Cessna 350 and 400. The aircraft remained produced in the Bend, Oregon factory virtually unchanged until 2009 when Cessna announced the Bend factory would be shut down and composite production relocated to Mexico while final assembly would be moved to Wichita to coincide with the rest of the single-engine Cessna line. Simultaneously the 350 and 400 were rebranded the Cessna Corvalis and Corvalis TT, respectively.
The change in production and movement to Mexico and Wichita heavily slowed demand and production was focused on finishing incomplete airframes from Bend. In 2011, Cessna announced the end of Corvalis 350 production, leaving only the model 400 Corvalis TT as a remnant of a major reset in general aviation.
Columbia 350 Insurance Cost:
Aviation insurance in general, is a very specialized industry and premiums vary depending on make and model of the aircraft, hull value, use of the aircraft, pilot history and qualifications and aircraft insurance rates even take into account the loss history of each specific make and model and the loss history of the aviation industry as a whole.
Columbia 350 insurance, like all aviation insurance, is broken down into 2 specific coverages. The first is Liability Coverage, which is standard on every aircraft insurance policy and the second is optional hull coverage, which covers damage to the aircraft itself.
Columbia 350 aviation liability insurance covers damage caused by the aircraft, outside of the aircraft, specifically property damage, bodily injury, and provides for legal defense in the event that the aircraft owner or policyholder is sued.
Aircraft liability insurance is typically offered for Columbia 350's in amounts between $1,000,000 and $535,000 per occurrence (per incident) and includes coverage for passengers, but typically limits that amount to between $100,000 and $1,000,000 per passenger. Passenger liability coverage is included within the total liability coverage amount.
A real-world example of how this aviation liability coverage would protect you: If, as a result of operating your Columbia 350 you damaged property or caused bodily injury outside of the aircraft, you would have the full amount of total liability coverage to pay for damages that occurred, less the liability amount paid for passengers inside the aircraft. If the aircraft crashed and you had passengers inside the aircraft that were injured, your insurance policy would pay up to the policy passenger limit for each passenger.
This liability coverage also applies as a bubble that follows the aircraft around. If the aircraft is hangered, liability coverage extends throughout your hangar and it is this coverage that airports will typically require you to have. It's not a separate insurance policy, it is actually coverage built into your standards airplane insurance policy.
Other liability options: Higher liability coverage on the Columbia 350 is available to qualified pilots with experience in the make and model and a minimum Commercial/MEL/IFR license/ratings.
The second coverage on a Columbia 350 insurance policy is hull coverage and is an optional coverage. Aircraft hull insurance covers damage to the aircraft itself and is an agreed value, not subject to depreciation. Agreed value is decided during the initial insurance quoting process, the aircraft owner requests an insurance quote for his or her Columbia 350 and requests a quote including hull coverage in the amount of say $535,000. Once an aviation insurance company provides a quote, they are agreeing with you that your aircraft is worth $535,000.
*Insurance companies may place additional stipulations on quotes to prove the value of your aircraft prior to binding, if your agreed value is higher than bluebook.
Most aviation insurance companies do not offer deductibles higher than $0 deductibles, which means in the event of a total loss, if your aircraft was insured for $535,000, you would get a straight check for $535,000.
Columbia 350 Insurance Cost Breakdown:
As of January 2021, there are 8 carriers quoting Columbia 350 insurance in the U.S. We consider qualified pilots to have at least a Commercial License and IFR rating, with 1,000 total hours, 500 Turbine hours and 50 hours in the make/model.
For an annual policy with $1,000,000 in liability only coverage.
 Premium range for qualified pilots: $1,150-$1,400 per year.
For an annual policy with $1,000,000 in liability coverage and $535,000 in hull coverage
 Premium range for qualified pilots: $6,800-$9,600 per year.
BWI is a family-owned, nationwide insurance brokerage specializing in aviation insurance since 1977. Our dedicated Aviation Insurance Professionals are highly trained, hand-picked and experienced in helping Columbia 350 owners and operators obtain the very best insurance coverage.
BWI offers comprehensive Columbia 350 insurance policies for personal, business, charter, industrial aid, and commercial aviation uses.
For more information or to get an actual Columbia 350 insurance quote, please fill out a quote request online here or call us at 800.666.4359
BWI | The Future Of Aviation Insurance
Family Owned Since 1977 | Nationwide | Forward Thinking
What makes us different? Our office is open 12 hours a day, our team is hand-picked, well-trained and every single customer has their own dedicated Aviation Insurance Professional.
*Always consult your insurance policy for exact coverage specifications, exclusions and details.