Growth in the drone industry is accelerating. Current trends show annual growth rates of drone sales at about 67% per year in 2020, growing to reach 2.4 million units per year in 2023.
This isn't just a new and fast-growing industry. This is a full-blown revolution in the way that hundreds of thousands of businesses will operate. As the number of drones expands, so do their uses and utility. Industries like agriculture, aerial photography, video and photo production, delivery, transportation will all be revolutionized by the use of drones.
These businesses will change the world as we know it, but they won't be immune to third-party liability claims and lawsuits. Every drone business needs a solid Drone Liability Insurance policy.
At BWI, we specialize in aviation and drone insurance and our team of insurance professionals can guide you through obtaining a solid drone liability insurance policy.
Starting a drone business isn't easy. To help you understand the insurance component, we put together a comprehensive Drone Liability Insurance Guide: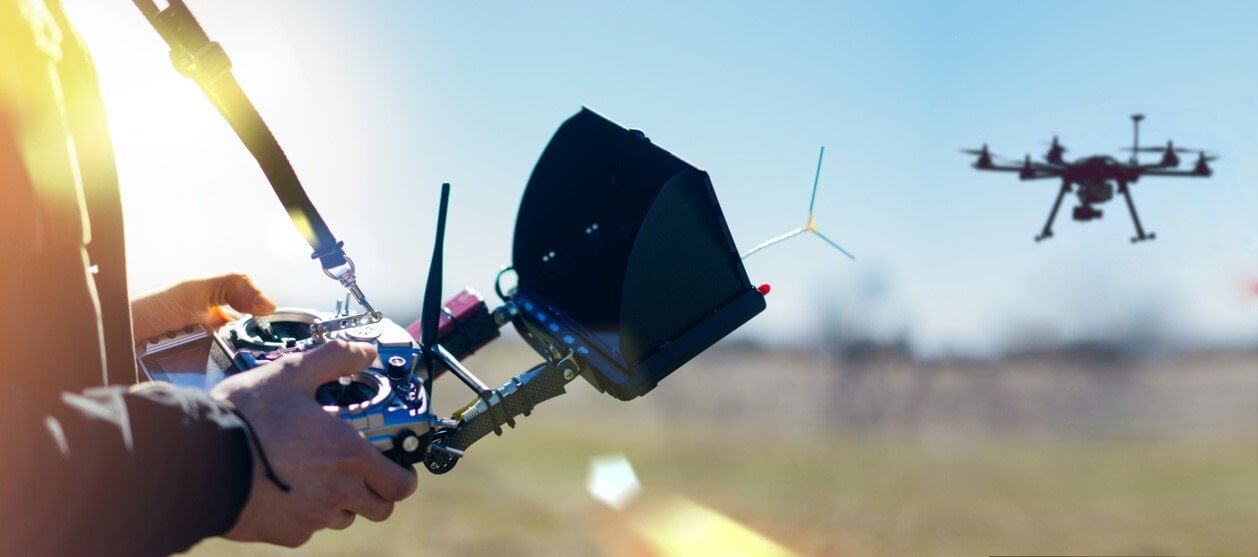 Step 1 | Identify coverages needed
After purchasing your drone and creating your business plan, the next step is to identify what insurance coverages are needed for you to start bidding and accepting jobs. The coverages needed are usually decided by answering two questions:
What coverage do I need, in the event of a loss, to ensure that my business is covered and protected?

Typical Drone Insurance policies start with $1,000,000 in liability coverage. As a rule of thumb this is a solid amount of coverage to start out with and will protect you for most accidents and losses.
You can always increase liability coverage, either temporarily for a specific job or for the remainder of the policy term.

What are the minimum coverage requirements of the jobs that I will be bidding on?

Different industries and employers all have different minimum coverage requirements. It's important to identify what the minimum requirements are on the first few jobs prior to securing an insurance policy.
Coverage requirements vary by industry and employer. Real estate photography for example, typically requires $1,000,000 minimum in liability coverage. If you are bidding on a job offered by a city or public entity, minimum requirements could easily be $2,000,000 or $3,000,000 in total liability.
Step 2 | Find an experienced drone insurance agent
Protecting your business with a drone insurance policy is a very important step in starting your drone business. Drone insurance can be complicated and the requirements as your business grows will change. It's important to find the very best drone insurance agent possible to help you manage your risk and ensure your business is properly covered.
What are you looking for in a great drone insurance agent?

It's important to find an insurance agent who specializes in aviation or drone insurance. Many insurance agents have the ability to offer drone insurance, but very few specialize in drone insurance. Insuring drone businesses and understanding the unique risks of flying objects is best left to a specialist.
Experience matters. Finding an agent who has experience in helping hundreds of drone businesses obtain the right insurance coverages will save you both time and money in the long run. An experienced agent will also have a deep understanding of the drone industry and can help you navigate insurance requirements on various jobsites.

Where do I find the best drone insurance agent?

Call BWI! BWI specializes in aviation and drone insurance, our agents are fully licensed and highly trained professionals, experienced in managing drone business risks.
Step 3 | Shop, Compare, Act.
Once you've found a great agent it's time to have them start shopping for an insurance policy. Your agent will gather basic information about your drone, type of business, operator qualifications (including requiring a part 107 license) and begin shopping and comparing multiple insurance companies.
Once your agent finishes shopping and provides you with an insurance quote, you are in position to activate that insurance policy. Insurance quotes are typically valid for 30-90 days.
After you receive a few quotes, it's important to take a few minutes and compare the prices, coverages, history and rating of each insurance company.
Once you have compared and discussed the options with your drone insurance agent, you are ready to act and bind coverage. We recommend starting coverage as soon as you have a job in place. It's important to get coverage started at least 2 business days before your job starts so your insurance agent has enough time to get all the paperwork and policy in place. Most jobsites and employers will require a certificate of insurance, showing proof of insurance coverage. Depending on your insurance company and situation, this can take up to 2 business days to obtain.
Why do I need a Drone Liability Insurance Policy?
To protect you and your business from third-party claims including bodily injury and property damage arising from the use of your drone.
To protect you and your business from invasion of privacy, libel, slander and copyright infringement.
To protect you and your business from a lawsuit and provide money for your legal defense.
What does a typical Drone Liability Insurance Policy cover?
The main coverage on a Drone Liability Insurance policy is liability coverage. This is typically offered in amounts as low as $500,000 and up to $25,000,000 depending on the drone/job site/risk and exposures. Liability covers bodily injury or property damage as a result of using your drone. Example: You are flying your drone over a construction site and you accidentally crash into an automobile causing property damage.
The second coverage on a Drone Liability Insurance policy provides legal defense coverage in the event that you are sued for an event that was caused by the use of your drone. Legal defense limits are typically unlimited, meaning the insurance company has no limit on what it will pay to defend you. The stipulation with legal defense is that once a claim is turned in to the insurance company, they have full control over how that claim is handled. Most insurance companies will want to pay a claim and move on and are likely to settle rather than defend.
The third coverage on a Drone Liability Insurance policy is called advertising liability and typically has a limit of $1,000,000. This is coverage specifically to protect you against claims of stolen ideas, libel, slander, copyright infringement, etc.
What does a Drone Liability Insurance Policy typically cost?
A 1 year drone insurance policy including $1,000,000 in liability coverage typically runs between $475-$550 per year depending on the use of the drone, operator qualifications, job site risks, etc.
Why should I choose BWI as my Drone Insurance risk manager?
BWI specializes only in aviation and drone business insurance. Our team of highly trained, insurance professionals can guide you through the insurance process and make sure you have the best drone liability insurance policy at the lowest rate to protect your business.
BWI is one of the largest drone business insurance brokerages in the Country and our agents have experience in assisting thousands of drone businesses get insurance policies for every type of drone industry.
BWI is a family owned brokerage, celebrating 44 years in business and based in Southern California. BWI has invested in state of the art and innovative technology designed to give our agents an edge in shopping for drone insurance and providing an amazing experience for our customers.
How do I get a Drone Liability Insurance quote?
You can submit a quote request in 5 minutes or less by clicking this link or by calling one of our drone insurance professionals at 800.666.4359