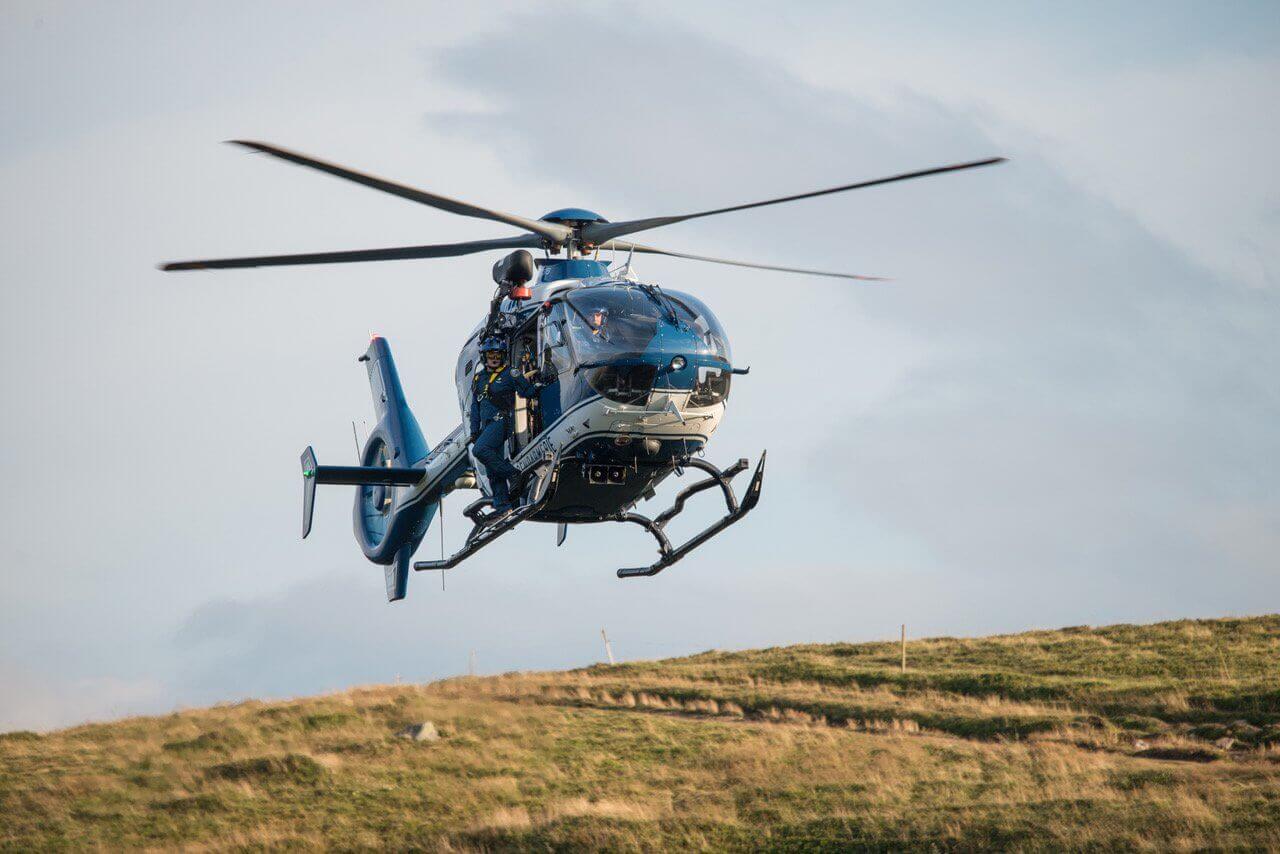 Eurocopter EC130 Helicopter Overview:
The Eurocopter (later Airbus Helicopters) EC135 originated in the late 1970s as a technology demonstrator. Messerschmitt-Bölkow-Blohm (MBB), a West German aerospace manufacturer known for its Bo-105 and BK-117 helicopters, partnered with Aérospatiale, a French manufacturer known for the AS365 helicopter and the legendary Concorde supersonic airliner. The companies agreed to a joint venture, taking a design loosely based on the Bo-105 and testing a variety of new ideas in what would ultimately be known as the Bo-108.
Among the concepts to be tested were a new digital full authority digital engine control (FADEC) system where the pilot selects a power setting but the engine monitors and prevents from exceeding any limitations and a new hingeless main rotor system allowing the helicopter to be extremely maneuverable but requiring advanced construction methods to compensate for the stresses involved. The test designs first flew in 1988 and embarked on a program to explore the new technologies. Over the course of the 1990s, additional changes were made to the test articles, including the replacement of the standard tail rotors with an enclosed Fenestron ducted fan design, introduction of composite main rotor blades, aerodynamic 'cleaning up' of the airframe, and systems designed to reduce the noise and vibration in the helicopter.
By the mid-1990s, mergers had combined MBB and Aérospatiale into Eurocopter, and it was decided to move toward serial production of the aircraft under the designation EC135. Similar to the AS365, it was decided the EC135 would be available with both a European and North American engine option – the Turbomeca Arrius or Pratt & Whitney PW206 (designed the EC135T and EC135P, respectively). The design was built from the start to be capable of single-pilot instrument flight rules operation, utilizing a three (later four) axis autopilot. Initial certification was reached in mid-1996, and single-pilot IFR certification followed in 1999. Shortly thereafter, an upgrade program led to increases in single-engine performance for both engine models, producing the EC135T2 and P2. The advanced main rotor combined with the Fenestron tail rotor to make the EC135 the quietest turbine helicopter in use for 15 years after its introduction.
The EC135 features a clamshell door at the back of the cabin allowing easy ingress and egress of patients on stretchers, making it a prime candidate for helicopter emergency medical services (HEMS), which currently accounts for more than half of the worldwide fleet. In 2012 it was reported as the industry's best-selling twin engine helicopter, and as of 2013 the EC135 was currently performing approximately 25% of all emergency medical flying worldwide. The largest operator of the type is Air Methods, with 83 aircraft in service performing air medical flights. The EC135 is also the primary trainer of the German Army and serves in the Japan Self Defense Force, among others.
Eurocopter EC130 Insurance Cost:
Aviation insurance in general, is a very specialized industry and premiums vary depending on make and model of the aircraft, hull value, use of the aircraft, pilot history and qualifications and aircraft insurance rates even take into account the loss history of each specific make and model and the loss history of the aviation industry as a whole.
Eurocopter EC130 insurance, like all aviation insurance, is broken down into 2 specific coverages. The first is Liability Coverage, which is standard on every aircraft insurance policy and the second is optional hull coverage, which covers damage to the aircraft itself.
Eurocopter EC130 aviation liability insurance covers damage caused by the aircraft, outside of the aircraft, specifically property damage, bodily injury, and provides for legal defense in the event that the aircraft owner or policyholder is sued.
Aircraft liability insurance is typically offered for Eurocopter EC130's in amounts between $1,000,000 and $20,000,000 per occurrence (per incident) and includes coverage for passengers, but typically limits that amount to between $100,000 and $1,000,000 per passenger. Passenger liability coverage is included within the total liability coverage amount.
A real-world example of how this aviation liability coverage would protect you: If, as a result of operating your Eurocopter EC130 you damaged property or caused bodily injury outside of the aircraft, you would have the full amount of total liability coverage to pay for damages that occurred, less the liability amount paid for passengers inside the aircraft. If the aircraft crashed and you had passengers inside the aircraft that were injured, your insurance policy would pay up to the policy passenger limit for each passenger.
This liability coverage also applies as a bubble that follows the aircraft around. If the aircraft is hangered, liability coverage extends throughout your hangar and it is this coverage that airports will typically require you to have. It's not a separate insurance policy, it is actually coverage built into your standards airplane insurance policy.
Other liability options: Higher liability coverage on the Eurocopter EC130 is available to qualified pilots with experience in the make and model and a minimum Commercial/RW/IFR license/Ratings and commercial helicopter uses.
The second coverage on an Eurocopter EC130 insurance policy is hull coverage and is an optional coverage. Aircraft hull insurance covers damage to the aircraft itself and is an agreed value, not subject to depreciation. Agreed value is decided during the initial insurance quoting process, the aircraft owner requests an insurance quote for his or her Eurocopter EC130 and requests a quote including hull coverage in the amount of say $1,500,000. Once an aviation insurance company provides a quote, they are agreeing with you that your aircraft is worth $1,500,000
*Insurance companies may place additional stipulations on quotes to prove the value of your aircraft prior to binding, if your agreed value is higher than bluebook.
Most aviation insurance companies do not offer deductibles higher than $0 deductibles, which means in the event of a total loss, if your aircraft was insured for $1,500,000, you would get a straight check for $1,500,000.
Eurocopter EC130 Insurance Cost Breakdown:
As of January 2021, there are 7 carriers quoting Eurocopter EC130 insurance in the U.S. We consider qualified pilots to have at least a commercial license, with 2,000 total hours, 1,500 rotor-wing hours and 200 hours in the make/model.
For an annual policy with $1,000,000 in liability only coverage.
 Premium range for qualified pilots: $2,500-$3,750 per year.
 Premium range for less than qualified pilots (low-time/etc): $3,750-$5,700 per year.
For an annual policy with $1,000,000 in liability coverage and $1,500,000 in hull coverage
 Premium range for qualified pilots: $8,000-$18,000 per year.
 Premium range for less than qualified pilots (low-time/etc): $12,000-$25,000 per year.
BWI is a family-owned, nationwide insurance brokerage specializing in aviation insurance since 1977. Our dedicated Aviation Insurance Professionals are highly trained, hand-picked and experienced in helping Eurocopter EC130 owners and operators obtain the very best insurance coverage.
BWI offers comprehensive Eurocopter EC130 insurance policies for personal, business, charter, industrial aid, and commercial helicopter uses.
For more information or to get an actual Eurocopter EC130 insurance quote, please fill out a quote request online here or call us at 800.666.4359
BWI | The Future Of Aviation Insurance
Family Owned Since 1977 | Nationwide | Forward Thinking
What makes us different? Our office is open 12 hours a day, our team is hand-picked, well-trained and every single customer has their own dedicated Aviation Insurance Professional.
*Always consult your insurance policy for exact coverage specifications, exclusions and details.