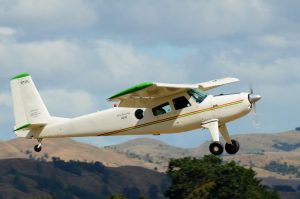 Helio H250 Courier Overview:
Shortly after World War II, in backwoods airports across states like Alaska, Montana, and Idaho, a need for a high-performance plane that could get into remote airfields existed that couldn't be filled by new, low power designs or by heavy purpose-built surplus planes. These needs crossed paths with some of the new commuter airlines that wanted an ultra-short takeoff and landing (STOL) design that could transport passengers on new routes to smaller towns that were never economical to service before as well as potential STOLports located in the heart of major cities.
New Hampshire-based Wiggins Airways partnered with former Ford engineer Otto Koppen to heavily modify a Piper Vagabond into a STOL design – the fuselage was extended by four feet and a larger tail was added for better controllability. The all-new wing design used high lift trailing edge flaps and fully automatic leading-edge slats which combined to allow the new design to remain airborne and controlled as low as 27 mph (43 km/h). Due to the low speeds allowed ground control could be difficult in strong crosswinds so a castering wheel design was used that allowed the main wheels to turn up to 20 degrees each side of center. The landing gear was additionally placed far forward to allow heavy braking on landing without the aircraft tipping over on its nose.
The design was ultimately named the Courier and the Helio Aircraft Company was incorporated in Kansas to start serial production in the early 1950s. Helio would select the 260 horsepower geared Lycoming GO-435 engine which, paired with the excellent wing design, could give takeoff and landing distances of just a few times the aircraft's length.
The Courier would succeed in the bush flying market and approximately 500 were produced with the majority going to operators in Canada and Alaska. A few would be placed with commuter airlines, but the ideas of STOLports in major metropolitan areas never caught on as expected. Due to its excellent performance, over 100 Couriers would be used by the US Army and Air Force for liason, reconnaissance, artillery targeting, and special operations. An unknown number, estimated at approximately 20, were used by the CIA through a number of front companies for clandestine work. The later Couriers would replace the troublesome geared engine with direct drive Lycoming six and later eight cylinder engines producing as high as 400 horsepower. Designs were floated for the installation of turboprop engines but prototypes were never produced. Production would end in the early 1980s, but most Couriers continue to be used heavily in bushplane operations, getting supplies and people where other planes can't.
Helio H250 Courier Insurance Cost:
Aviation insurance in general, is a very specialized industry and premiums vary depending on make and model of the aircraft, hull value, use of the aircraft, pilot history and qualifications and aircraft insurance rates even take into account the loss history of each specific make and model and the loss history of the aviation industry as a whole.
Helio H250 Courier insurance, like all aviation insurance, is broken down into 2 specific coverages. The first is Liability Coverage, which is standard on every aircraft insurance policy and the second is optional hull coverage, which covers damage to the aircraft itself.
Helio H250 Courier aviation liability insurance covers damage caused by the aircraft, outside of the aircraft, specifically property damage, bodily injury, and provides for legal defense in the event that the aircraft owner or policyholder is sued.
Aircraft liability insurance is typically offered for Helio H250 Courier's at $1,000,000 per occurrence (per incident) and includes coverage for passengers, but typically limits that amount to between $100,000 and $1,000,000 per passenger. Passenger liability coverage is included within the total liability coverage amount.
A real-world example of how this aviation liability coverage would protect you: If, as a result of operating your Helio H250 Courier you damaged property or caused bodily injury outside of the aircraft, you would have the full amount of total liability coverage to pay for damages that occurred, less the liability amount paid for passengers inside the aircraft. If the aircraft crashed and you had passengers inside the aircraft that were injured, your insurance policy would pay up to the policy passenger limit for each passenger.
This liability coverage also applies as a bubble that follows the aircraft around. If the aircraft is hangered, liability coverage extends throughout your hangar and it is this coverage that airports will typically require you to have. It's not a separate insurance policy, it is actually coverage built into your standards airplane insurance policy.
Other liability options: Higher liability coverage on the Helio H250 Courier may be available to qualified pilots with experience in the make and model and a minimum Private License/IFR rating.
The second coverage on a Helio H250 Courier insurance policy is hull coverage and is an optional coverage. Aircraft hull insurance covers damage to the aircraft itself and is an agreed value, not subject to depreciation. Agreed value is decided during the initial insurance quoting process, the aircraft owner requests an insurance quote for his or her Helio H250 Courier and requests a quote including hull coverage in the amount of say $150,000. Once an aviation insurance company provides a quote, they are agreeing with you that your aircraft is worth $150,000.
*Insurance companies may place additional stipulations on quotes to prove the value of your aircraft prior to binding, if your agreed value is higher than bluebook.
Most aviation insurance companies do not offer deductibles higher than $0 deductibles, which means in the event of a total loss, if your aircraft was insured for $150,000, you would get a straight check for $150,000.
Helio H250 Courier Insurance Cost Breakdown:
As of January 2021, there are 8 carriers quoting Helio H250 Courier insurance in the U.S. We consider qualified pilots to have at least a Private License with 200 total hours, 100 tailwheel hours and 25 hours in the make/model.
For an annual policy with $1,000,000 in liability only coverage.
 Premium range for qualified pilots: $650-$900 per year.
 Premium range for less than qualified pilots (low-time/etc): $875-$1,250 per year.
For an annual policy with $1,000,000 in liability coverage and $150,000 in hull coverage
 Premium range for qualified pilots: $3,200-$6,800 per year.
 Premium range for less than qualified pilots (low-time/etc): $7,950-$12,700 per year.
BWI is a family-owned, nationwide insurance brokerage specializing in aviation insurance since 1977. Our dedicated Aviation Insurance Professionals are highly trained, hand-picked and experienced in helping Helio H250 Courier owners and operators obtain the very best insurance coverage.
BWI offers comprehensive Helio H250 Courier insurance policies for personal, business, charter, industrial aid, and commercial aviation uses.
For more information or to get an actual Helio H250 Courier insurance quote, please fill out a quote request online here or call us at 800.666.4359
BWI | The Future Of Aviation Insurance
Family Owned Since 1977 | Nationwide | Forward Thinking
What makes us different? Our office is open 12 hours a day, our team is hand-picked, well-trained and every single customer has their own dedicated Aviation Insurance Professional.
*Always consult your insurance policy for exact coverage specifications, exclusions and details.