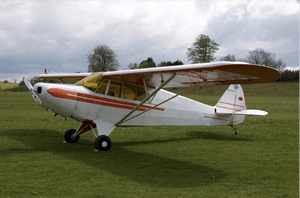 Piper PA-14 Super Cruiser Overview:
In the immediate post-World War II atmosphere Piper, like most general aviation manufacturers, was producing new aircraft as fast as they could get them out the door. The three-seat PA-12 Super Cruiser had been a very successful design with almost 4,000 produced in just three years. With an eye on capturing the family market, in 1947 Piper decided to expand the Super Cruiser into a four-seat airplane based on the same design.
To keep design and production costs low, the new PA-14 was heavily based on the PA-12. The cabin was slightly widened and lengthened to accommodate four passengers. The aft seat could be slid forward and aft to help with comfort for passengers or could be removed entirely, with the flat floor allowing standard eight-foot lumber to be carried lengthwise. The fuselage was standard Piper steel tube covered in aircraft fabric and the wings were borrowed directly from the Super Cruiser with the only change being the addition of slotted flaps to improve takeoff and landing performance. To emphasize the four-seat capacity, Piper named the PA-14 the Family Cruiser.
First flight took place in March of 1947 and testing consumed the remainder of the year. Production deliveries commenced in 1948 but sales were extremely slow by standards of the day. One of the many items borrowed from the Super Cruiser was the four-cylinder Lycoming O-235 engine, producing only 115 horsepower. This had been acceptable in the Super Cruiser but produced lackluster performance in the Family Cruiser, with cruise speeds barely over 100 miles per hour and climb rates at sea level of just over 500 feet per minute. Only 238 Family Cruisers were produced and production was terminated the following year as Piper acquired Stinson Aircraft and their highly successful four-seat model 108. Piper would sell the remaining 108s for two years before transitioning to clean sheet designs.
Though relatively few Family Cruisers were made at the original time of production, the approximately 150 remaining registered today hold a bit of a cult following. Criticized early on for being underpowered and cramped for four-seat aircraft, many today have had their original 115 horsepower engines replaced with engines ranging from 150 to even 200 horsepower. The quick ability of the rear seat to be removed and the resultant large amount of space made the aircraft popular for twosomes to fly into camping locations and sleep in the aircraft. Long out of production, the PA-14 remains popular among owners today, providing a unique time capsule of postwar general aviation.
Piper PA-14 Super Cruiser Insurance Cost:
Aviation insurance in general, is a very specialized industry and premiums vary depending on make and model of the aircraft, hull value, use of the aircraft, pilot history and qualifications and aircraft insurance rates even take into account the loss history of each specific make and model and the loss history of the aviation industry as a whole.
Piper PA-14 Super Cruiser insurance, like all aviation insurance, is broken down into 2 specific coverages. The first is Liability Coverage, which is standard on every aircraft insurance policy and the second is optional hull coverage, which covers damage to the aircraft itself.
Piper PA-14 Super Cruiser aviation liability insurance covers damage caused by the aircraft, outside of the aircraft, specifically property damage, bodily injury, and provides for legal defense in the event that the aircraft owner or policyholder is sued.
Aircraft liability insurance is typically offered for Piper PA-14 Super Cruiser's at $1,000,000 per occurrence (per incident) and includes coverage for passengers, but typically limits that amount to between $100,000 and $1,000,000 per passenger. Passenger liability coverage is included within the total liability coverage amount.
A real-world example of how this aviation liability coverage would protect you: If, as a result of operating your Piper PA-14 Super Cruiser you damaged property or caused bodily injury outside of the aircraft, you would have the full amount of total liability coverage to pay for damages that occurred, less the liability amount paid for passengers inside the aircraft. If the aircraft crashed and you had passengers inside the aircraft that were injured, your insurance policy would pay up to the policy passenger limit for each passenger.
This liability coverage also applies as a bubble that follows the aircraft around. If the aircraft is hangered, liability coverage extends throughout your hangar and it is this coverage that airports will typically require you to have. It's not a separate insurance policy, it is actually coverage built into your standards airplane insurance policy.
Other liability options: Higher liability coverage on the Piper PA-14 Super Cruiser may be available to qualified pilots with experience in the make and model and a minimum Private License/IFR rating.
The second coverage on a Piper PA-14 Super Cruiser insurance policy is hull coverage and is an optional coverage. Aircraft hull insurance covers damage to the aircraft itself and is an agreed value, not subject to depreciation. Agreed value is decided during the initial insurance quoting process, the aircraft owner requests an insurance quote for his or her Piper PA-14 Super Cruiser and requests a quote including hull coverage in the amount of say $220,000. Once an aviation insurance company provides a quote, they are agreeing with you that your aircraft is worth $220,000.
*Insurance companies may place additional stipulations on quotes to prove the value of your aircraft prior to binding, if your agreed value is higher than bluebook.
Most aviation insurance companies do not offer deductibles higher than $0 deductibles, which means in the event of a total loss, if your aircraft was insured for $220,000, you would get a straight check for $220,000.
Piper PA-14 Super Cruiser Insurance Cost Breakdown:
As of January 2021, there are 5 carriers quoting Piper PA-14 Super Cruiser insurance in the U.S. We consider qualified pilots to have at least a Private License with 200 total hours, 100 tailwheel hours and 25 hours in the make/model.
For an annual policy with $1,000,000 in liability only coverage.
 Premium range for qualified pilots: $450-$600 per year.
 Premium range for less than qualified pilots (low-time/etc): $675-950 per year.
For an annual policy with $1,000,000 in liability coverage and $220,000 in hull coverage
 Premium range for qualified pilots: $4,500-$5,800 per year.
 Premium range for less than qualified pilots (low-time/etc): $9,950-$12,700 per year.
BWI is a family-owned, nationwide insurance brokerage specializing in aviation insurance since 1977. Our dedicated Aviation Insurance Professionals are highly trained, hand-picked and experienced in helping Piper PA-14 Super Cruiser owners and operators obtain the very best insurance coverage.
BWI offers comprehensive Piper PA-14 Super Cruiser insurance policies for personal, business, charter, industrial aid, and commercial aviation uses.
For more information or to get an actual Piper PA-14 Super Cruiser insurance quote, please fill out a quote request online here or call us at 800.666.4359
BWI | The Future Of Aviation Insurance
Family Owned Since 1977 | Nationwide | Forward Thinking
What makes us different? Our office is open 12 hours a day, our team is hand-picked, well-trained and every single customer has their own dedicated Aviation Insurance Professional.
*Always consult your insurance policy for exact coverage specifications, exclusions and details.