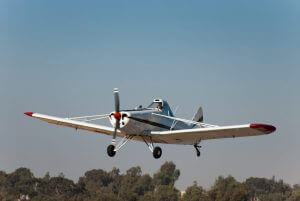 Piper PA-36 Pawnee Brave Overview:
In the early 1970s, Piper had a very successful agricultural design in the PA-25 Pawnee. Thousands had been produced and the type was selling well, but the original requirements to use as many components as practical from the Piper light aircraft line in the 1950s had limited even the later Pawnees to a maximum takeoff weight of only 2,900 lbs (1315 kg). Competition from newer and more importantly heavier lifting designs led to Piper beginning to explore a new model in 1972.
At a quick glance, the new model looked very similar to the PA-25, but significant changes and structural reinforcements were made to move away from the underlying skeleton of the earlier Pawnee. A major change was the abandonment of the fabric-covered tube structure of the Pawnee for a fully metalized fuselage and wing. The additional strength allowed a maximum takeoff weight of 4,800 lbs and subsequent expansion of the chemical hopper brought a maximum capacity of up to 275 gallons (1,040 liters) of liquid or 2,200 pounds (1,000 kg) of dry chemical. A revised dispersant system gave operators more reliable performance and improved heating and cooling for the pilot reduced fatigue. To differentiate the upgraded model from the lightweight PA-25, it was designed the PA-36 and branded the Pawnee Brave.
To provide the additional power the Brave demanded Piper had selected the brand new 285 horsepower Continental Tiara engine. The Tiara was an all-new fuel injected and geared design, but its high-RPM characteristics led to high fuel consumption and lack of reliability. In 1977 a 300 horsepower Lycoming engine was introduced as the Brave 300, and by 1978 the Tiara had been dropped with the Brave 300 becoming the standard model. At the same time, Lycoming's 375 horsepower eight-cylinder IO-720 engine was introduced and branded the Brave 375.
Piper would produce both the Brave 300 and Brave 375 simultaneously until 1981. The excellent lifting capability of the Braves would lead to nearly a thousand being produced by the conclusion of production. In 1981 Piper sold the production rights for the Brave to West Texas Aircraft, who produced approximately another 150 Braves.
The Pawnee Brave, like its smaller sibling, proved a highly successful design for Piper. The combined Pawnee line had produced over six thousand frames and found success not only in agricultural work but also in other utility tasks such as banner and glider towing.
Piper PA-36 Pawnee Brave Insurance Cost:
Aviation insurance in general, is a very specialized industry and premiums vary depending on make and model of the aircraft, hull value, use of the aircraft, pilot history and qualifications and aircraft insurance rates even take into account the loss history of each specific make and model and the loss history of the aviation industry as a whole.
Piper PA-36 Pawnee Brave insurance, like all aviation insurance, is broken down into 2 specific coverages. The first is Liability Coverage, which is standard on every aircraft insurance policy and the second is optional hull coverage, which covers damage to the aircraft itself.
Piper PA-36 Pawnee Brave aviation liability insurance covers damage caused by the aircraft, outside of the aircraft, specifically property damage, bodily injury, and provides for legal defense in the event that the aircraft owner or policyholder is sued.
Aircraft liability insurance is typically offered for Piper PA-36 Pawnee Brave's at $1,000,000 per occurrence (per incident) and includes coverage for passengers, but typically limits that amount to between $100,000 and $1,000,000 per passenger. Passenger liability coverage is included within the total liability coverage amount.
A real-world example of how this aviation liability coverage would protect you: If, as a result of operating your Piper PA-36 Pawnee Brave you damaged property or caused bodily injury outside of the aircraft, you would have the full amount of total liability coverage to pay for damages that occurred, less the liability amount paid for passengers inside the aircraft. If the aircraft crashed and you had passengers inside the aircraft that were injured, your insurance policy would pay up to the policy passenger limit for each passenger.
This liability coverage also applies as a bubble that follows the aircraft around. If the aircraft is hangered, liability coverage extends throughout your hangar and it is this coverage that airports will typically require you to have. It's not a separate insurance policy, it is actually coverage built into your standards airplane insurance policy.
Other liability options: Higher liability coverage on the Piper PA-36 Pawnee Brave may be available to qualified pilots with experience in the make and model and a minimum Private License/IFR rating.
The second coverage on a Piper PA-36 Pawnee Brave insurance policy is hull coverage and is an optional coverage. Aircraft hull insurance covers damage to the aircraft itself and is an agreed value, not subject to depreciation. Agreed value is decided during the initial insurance quoting process, the aircraft owner requests an insurance quote for his or her Piper PA-36 Pawnee Brave and requests a quote including hull coverage in the amount of say $45,000. Once an aviation insurance company provides a quote, they are agreeing with you that your aircraft is worth $45,000.
*Insurance companies may place additional stipulations on quotes to prove the value of your aircraft prior to binding, if your agreed value is higher than bluebook.
Most aviation insurance companies do not offer deductibles higher than $0 deductibles, which means in the event of a total loss, if your aircraft was insured for $45,000, you would get a straight check for $45,000.
Piper PA-36 Pawnee Brave Insurance Cost Breakdown:
As of January 2021, there are 5 carriers quoting Piper PA-36 Pawnee Brave insurance in the U.S. We consider qualified pilots to have at least a Private License with 200 total hours, 100 tailwheel hours and 25 hours in the make/model.
For an annual policy with $1,000,000 in liability only coverage.
 Premium range for qualified pilots: $450-$600 per year.
 Premium range for less than qualified pilots (low-time/etc): $675-950 per year.
For an annual policy with $1,000,000 in liability coverage and $45,000 in hull coverage
 Premium range for qualified pilots: $1,650-$2,100 per year.
 Premium range for less than qualified pilots (low-time/etc): $2,840-$4,100 per year.
BWI is a family-owned, nationwide insurance brokerage specializing in aviation insurance since 1977. Our dedicated Aviation Insurance Professionals are highly trained, hand-picked and experienced in helping Piper PA-36 Pawnee Brave owners and operators obtain the very best insurance coverage.
BWI offers comprehensive Piper PA-36 Pawnee Brave insurance policies for personal, business, charter, industrial aid, and commercial aviation uses.
For more information or to get an actual Piper PA-36 Pawnee Brave insurance quote, please fill out a quote request online here or call us at 800.666.4359
BWI | The Future Of Aviation Insurance
Family Owned Since 1977 | Nationwide | Forward Thinking
What makes us different? Our office is open 12 hours a day, our team is hand-picked, well-trained and every single customer has their own dedicated Aviation Insurance Professional.
*Always consult your insurance policy for exact coverage specifications, exclusions and details.