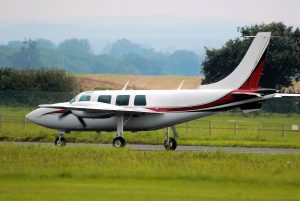 Piper PA-60 Aerostar Overview:
Few pilots would tell you they want to go slow. Ted Smith was certainly no exception, having worked for Douglas Aircraft during World War II and the Aero Commander company after the war, leading to successful designs like the Turbine Commander. He would ultimately leave in the 1960s to produce a new high-speed design under his own name.
The new model, dubbed the Aerostar, was engineered from tip to tail for maximum speed. Both the fuselage and wing structure were designed to be extremely simple with the minimum amount of parts possible. The six-seat cabin was fitted with high-end appointments for passenger comfort and was accessed by a door located abeam the pilot's seat. An external baggage compartment allowed the carrying of up to 240 pounds (110 kg) of luggage and a full complement of King avionics were included as standard. For passenger comfort, heating and ventilation outlets were located at every seat.
The prototype Aerostar flew in 1967 with a pair of 180 horsepower and later 200 horsepower Lycoming engines. Flight tests went well and production began in 1968 using six-cylinder 290 horsepower Lycoming engines. Over the next few years, production would struggle as the Aerostar company passed from numerous owners including a cement mixing company and the Mooney Aircraft company. In 1972 Ted Smith would repurchase the production rights and standardize the line around the Model 601 with turbocharged versions of the Lycoming engines. Shortly after the purchase, the Model 601P added cabin pressurization to the Aerostar, greatly increasing the capability of the airplane by allowing passenger comfort at high altitudes where speed was greater and fuel burn was lower. The Model 800 featuring a lengthening of the cabin to accommodate two more passengers was test flown, but never reached serial production.
Ted Smith would pass away in 1976 and ultimately the Aerostar designs would be purchased by Piper Aircraft in 1978, continuing to produce the 601 and 601P derivatives as the PA-60 and PA-61. Though officially dubbed by Piper as the Sequoia, the aircraft remained universally known as the Aerostar. Non-pressurized models were later dropped by Piper and production was moved to Piper's Vero Beach facility until the line was closed in 1984. In 1991 all rights for the Aerostar designs were sold to two former Aerostar employees and the company was organized as the Aerostar Aircraft Corporation, providing parts and engineering support for current operators of the type.
Over the 16-year production run, slightly over 1000 Aerostars of all varieties were produced by the various manufacturers. More than 50 years after its first flight, the Aerostar 601 still holds the speed record for a production piston twin aircraft, with later models boasting unrivaled cruise speeds of over 260 knots.
Piper PA-60 Aerostar Insurance Cost:
Aviation insurance in general, is a very specialized industry and premiums vary depending on make and model of the aircraft, hull value, use of the aircraft, pilot history and qualifications and aircraft insurance rates even take into account the loss history of each specific make and model and the loss history of the aviation industry as a whole.
Piper PA-60 Aerostar insurance, like all aviation insurance, is broken down into 2 specific coverages. The first is Liability Coverage, which is standard on every aircraft insurance policy and the second is optional hull coverage, which covers damage to the aircraft itself.
Piper PA-60 Aerostar aviation liability insurance covers damage caused by the aircraft, outside of the aircraft, specifically property damage, bodily injury, and provides for legal defense in the event that the aircraft owner or policyholder is sued.
Aircraft liability insurance is typically offered for Piper PA-60 Aerostar's at $1,000,000 per occurrence (per incident) and includes coverage for passengers, but typically limits that amount to between $100,000 and $1,000,000 per passenger. Passenger liability coverage is included within the total liability coverage amount.
A real-world example of how this aviation liability coverage would protect you: If, as a result of operating your Piper PA-60 Aerostar you damaged property or caused bodily injury outside of the aircraft, you would have the full amount of total liability coverage to pay for damages that occurred, less the liability amount paid for passengers inside the aircraft. If the aircraft crashed and you had passengers inside the aircraft that were injured, your insurance policy would pay up to the policy passenger limit for each passenger.
This liability coverage also applies as a bubble that follows the aircraft around. If the aircraft is hangered, liability coverage extends throughout your hangar and it is this coverage that airports will typically require you to have. It's not a separate insurance policy, it is actually coverage built into your standards airplane insurance policy.
Other liability options: Higher liability coverage on the Piper PA-60 Aerostar may be available to qualified pilots with experience in the make and model and a minimum Private License/IFR rating.
The second coverage on a Piper PA-60 Aerostar insurance policy is hull coverage and is an optional coverage. Aircraft hull insurance covers damage to the aircraft itself and is an agreed value, not subject to depreciation. Agreed value is decided during the initial insurance quoting process, the aircraft owner requests an insurance quote for his or her Piper PA-60 Aerostar and requests a quote including hull coverage in the amount of say $150,000. Once an aviation insurance company provides a quote, they are agreeing with you that your aircraft is worth $150,000.
*Insurance companies may place additional stipulations on quotes to prove the value of your aircraft prior to binding, if your agreed value is higher than bluebook.
Most aviation insurance companies do not offer deductibles higher than $0 deductibles, which means in the event of a total loss, if your aircraft was insured for $150,000, you would get a straight check for $150,000.
Piper PA-60 Aerostar Insurance Cost Breakdown:
As of January 2021, there are 5 carriers quoting Piper PA-60 Aerostar insurance in the U.S. We consider qualified pilots to have at least a Private License and IFR Rating, with 1,000 total hours, 500 Multi-engine and 100 hours in the make/model.
For an annual policy with $1,000,000 in liability only coverage.
 Premium range for qualified pilots: $650-$800 per year.
 Premium range for less than qualified pilots (low-time/etc): $975-$1,150 per year.
For an annual policy with $1,000,000 in liability coverage and $150,000 in hull coverage
 Premium range for qualified pilots: $3,800-$5,200 per year.
 Premium range for less than qualified pilots (low-time/etc): $6,750-$12,100 per year.
BWI is a family-owned, nationwide insurance brokerage specializing in aviation insurance since 1977. Our dedicated Aviation Insurance Professionals are highly trained, hand-picked and experienced in helping Piper PA-60 Aerostar owners and operators obtain the very best insurance coverage.
BWI offers comprehensive Piper PA-60 Aerostar insurance policies for personal, business, charter, industrial aid, and commercial aviation uses.
For more information or to get an actual Piper PA-60 Aerostar insurance quote, please fill out a quote request online here or call us at 800.666.4359
BWI | The Future Of Aviation Insurance
Family Owned Since 1977 | Nationwide | Forward Thinking
What makes us different? Our office is open 12 hours a day, our team is hand-picked, well-trained and every single customer has their own dedicated Aviation Insurance Professional.
*Always consult your insurance policy for exact coverage specifications, exclusions and details.