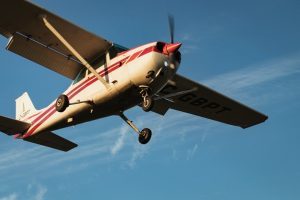 If you own an airplane, are thinking about buying one, or even if you rent an airplane, you should safeguard your investment in the aircraft and yourself from the risks associated with its ownership and operation by carrying airplane insurance. In addition to the protection that insurance can offer, many hangar landlords and fixed-base operators require pilots and aircraft renters to have a minimum of liability coverage.
In the United States, general aviation aircraft fly 24 million hours annually. Although the chances of an aviation accident are low, accidents do happen. For that reason, it is critical to make sure you and your investment are protected and that your airplane is covered by a good insurance policy. You'll want to be covered if you're sued if an accident happens and injuries or property damage occurs.
BWI Aviation can help you find the right insurance policy for you and your equipment. BWI has been at the forefront of the plane insurance sector since 1977. We work hard to give our clients the best service in the industry and can help them find the lowest nationwide rates for aircraft insurance. Bill White Insurance is dedicated to providing our clients with unrivaled insurance solutions, offering the best coverage at the best prices and with the best customer service.
Plane Insurance and Other Aircraft Insurance
We offer a variety of insurance programs for aircraft, drones, and hangars including:
General aviation
Seaplane
Turbine/Jet
Cessna 180/185
Unmanned Aerial Vehicles (UAV)
Rotor Wing
Experimentals
Charter or Commercial
Alaskan aviation
Aircraft rental insurance
Hangar coverage
When it comes to finding a reliable and comprehensive insurance policy, our insurance agents are trained and expected to not only meet but exceed the expectations of all of our clients. Our programs were created with pilots in mind. We think pilots deserve to work with aircraft insurance providers who will stand by them in times of need.
Plane Insurance Coverage
All airplanes need to be covered in the event of an accident. BWI insures all commercial and charter aircraft and works with pilots, charter services, and commercial aviation firms across the country. This includes entire fleets of charter jets, single-engine piston aircraft, and Supercubs used for pipeline patrols and medical evacuation flights. We prioritize our pilots and strive to make the process of locating the perfect aviation insurance policy more convenient and simple.
There are several options for aviation coverage: full flight, liability only, and ground only. Liability insurance covers property damage and bodily injury. If third parties make claims against you when their property is damaged, you'll want to be protected by a good insurance policy with limits and premiums as much as you reasonably can afford. You may need to pay extensive legal fees if you are sued. If you are sued, your policy can protect you and your legal fees would be covered. Talk to an insurance specialist about your risk levels and how much coverage you need and can reasonably afford.
Plane Insurance Tailored To Fit Your Needs
We compare the price of our aircraft insurance annually to make sure we can always get the best protection for the cheapest price. As market innovators, we have a history of collaborating with providers of aircraft insurance. We will compare the costs from our large network of aircraft insurance providers for you when you request a quote.
Your insurance premium will be determined by several variables, including the size and type of aircraft, the depth of your training and experience as a pilot, and the number of passengers the aircraft can carry. To determine the amount of coverage you can afford, speak with an insurance expert. We can then assist you in locating the best rates for the broadest coverage.
We devote a lot of time and energy to maintaining cutting-edge systems for plane insurance calculators and developing new, exclusive insurance programs. We take pride in providing affordable rates on aircraft insurance when compared to other aircraft insurance providers. We also put a lot of effort into making sure that our Quick Quote system offers the fastest submission and response times in the business.
Bill White Insurance: A 5-Star Family-Run Operation
In terms of rates and coverage options, BWI has provided its customers with some of the best options. We were among the first companies to offer coverage for drones and experimental aircraft in the industry. Additionally, we developed the first insurance plans for the Cessna 180/185 and Robinson Helicopter. Over the years, we have accumulated a wealth of experience that has helped us better meet our clients' needs for aviation insurance. We think that excellence comes from innovation.
Pilots have been covered by BWI Aviation Insurance, a family-run company with 5-star customer service, since 1977. Thanks to their years of experience and in-depth industry knowledge, our insurance specialists can help you find the right policy for unmanned aerial vehicles like agricultural drones as well as private aircraft, commercial aircraft, charter planes, and hangars. We can help you find the perfect plane insurance plan so you can feel secure in your protection.
How Can BWI Help You?
One of the best things you can do to get affordable rates on plane insurance is to find a good broker. If you want to buy insurance, you will need a knowledgeable insurance broker who can locate rates so you can compare costs. You require a broker with decades of experience in both the insurance and aviation industries, as well as a family-run business with 5-star customer service.
BWI Aviation Insurance can help you find the lowest rates on aircraft insurance. We provide insurance protection for pilots and owners of private, business, or charter aircraft. We have policies for hangars, unmanned aerial vehicles, and more. Our insurance specialists are qualified to help you because they are pilots. Due to our extensive industry experience and a long history of satisfying our clients, we can assist you in finding the best rates and the policy that will give you the confidence and peace of mind that you and your aircraft are covered.
If you're interested in our plane insurance for charter services or any other insurance program, get in touch with us right away to learn more about how we can protect you and your equipment, whether you're searching for a basic aviation insurance plan for your airplane or other aircraft. Contact us today to find out how we can help you.