If you're about to buy, or are the current owner of, an aircraft, then a good aircraft insurance policy can be one of the most important investments you ever make. While the chances of catastrophe are small, accidents still do happen.
In the case of a catastrophe, the aircraft owner can incur high costs. A good insurance policy will protect your aircraft and protect you from personal liability if any injuries or damage occur.
Even though aircraft insurance protects you from potentially large liabilities, the insurance premiums you pay don't have to be high. Find out what's covered by an aircraft insurance policy and how to pick a good policy at a great price.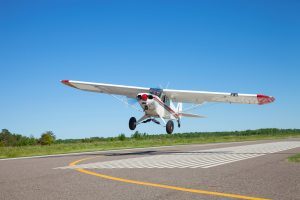 Why Every Aircraft Owner Needs Aircraft Insurance
Unlike in many European countries, the U.S. has no state or federal regulations making aircraft insurance mandatory. However, hangar landlords and fixed-base operators (FBOs) often require that the owner of any aircraft housed on their property purchase an aircraft insurance policy to cover potential damage to their property.
Even if you are not currently required to purchase aircraft insurance, doing so is still an excellent idea. General aviation aircraft in the U.S. fly 24 million hours annually. While flying is still much safer than driving, at that scale, it is unavoidable that some accidents will happen. In the case of such an accident, an aircraft owner's potential losses are not limited to the value of their aircraft.
If another person's property is damaged or someone is injured in an accident you were a part of, you may be sued for damages and incur high legal costs. However, with a good aircraft insurance policy, you will be protected from having to pay those costs personally.
In addition to the damage caused to other people's property, an aircraft insurance policy will cover damages to your aircraft. Repair or replacement costs can get expensive and a good policy can save you from significant costs
About BWI Aviation Insurance
Since 1977, Bill White Insurance (BWI) has been at the forefront of the aviation insurance industry. We strive to provide our customers with the most competitive rates and top-notch service nationwide. In 1979, we pioneered the very first Robinson Helicopter Insurance Program. Working directly with the Robinson company, we quickly had over 200 Robinson helicopters in our program.
In the 1980s, we developed and introduced the nation's first Cessna 180/185 insurance program. We designed this program specifically for qualified and experienced 180/185 pilots. We have enjoyed blockbuster success and outstanding rates for our customers throughout this program's existence due to the quality of pilots in the program. To this day, we are still the premier market for Cessna 180 and 185 owners.
BWI's almost 50 years of experience and strong reputation as a leader in the aircraft insurance industry mean customers can be confident they made the right choice when they chose to work with us.
What Types of Aircraft Does BWI Cover?
BWI provides aircraft insurance coverage for a wide selection of different types of aircraft, small and large.
Airplanes
BWI provides insurance coverage for different types of manned airplanes, including:
General aviation aircraft
Alaskan aviation aircraft
Cessna 180/185
Seaplanes
Private Jets
Commercial airplanes
For more information on whether your airplane is covered by one of our policies, you can use the N Number search tool on our homepage or get in touch with one of our specialists.
Rotorcraft
BWI was the first company to provide insurance plans for owners of Robinson helicopters and continues that tradition by providing coverage options for a wide selection of rotorcraft. Rotorcraft covered by BWI include:
Airbus helicopters
Agusta helicopters
Bell helicopters
Robinson helicopters
Leonardo helicopters
Sikorski helicopters
Eurocopter helicopters
Experimental Aircraft
BWI provides one of the only Experimental Aircraft insurance programs in North America. Because of their non-standard designs, other insurers may often have trouble determining risk, an essential part of creating an insurance quote.
Traditionally, there are several reasons why it can be difficult to obtain insurance for experimental aircraft. One of the main challenges is the lack of standardized data and information about these aircraft. Unlike standard manufactured aircraft, which are subject to strict design and manufacturing standards, experimental aircraft are often unique and may not have the same level of data available about their performance and safety. This lack of information can make it difficult for insurers to accurately assess the risks associated with insuring these aircraft, which can make it harder to obtain coverage.
At BWI, a specialist will create a custom insurance quote for every Experimental Aircraft. The specialist will take notes on the features and specific details of the aircraft. Once all the information is collected, we should be able to provide an accurate quote that fully protects your aircraft.
Drones
BWI provides coverage for a wide selection of commercial drones. Drone industries in our commercial drone coverage include:
Agriculture
Education, Research & Development
Infrastructure Inspection & Support
Mapping/Geophysical
Movie/TV Production
Property Survey/Inspection/Real Estate
Surveillance
Commercial Photography/Videography
Events (Concerts/Sports/Weddings etc.)
Instruction and Training
Media/News Gathering
Package Delivery
Sales/Demo
Wildlife/Conservation/Environmental
Construction
Fire Fighting/Support
Law Enforcement
Military
Private/Hobby
Search and Rescue
Is Drone Insurance Important?
While drones may not be the first thing people think of when they hear the word aircraft, aviation insurance can be an important purchase for drone operators. It provides protection against the financial and legal risks associated with flying these unmanned aerial vehicles (UAVs).
Drones have become essential in many industries, but there are potential risks and liabilities that drone operators need to consider. Having the right insurance coverage can help protect against these risks and ensure that drone operations are safe and successful.
Despite the best efforts of drone operators, accidents can happen, and these can result in significant damage to the drone or to third-party property. Without insurance coverage, the operator or owner may be held financially responsible for these costs, which can be a significant burden. Aviation insurance can provide protection against these costs, helping to ensure that the operator is not left with significant financial losses in the event of an accident.
In addition to protecting against the financial costs of accidents, aviation insurance can also provide protection against legal liabilities. In the event of an accident or incident involving a drone, the operator may face legal action or claims from third parties. Having adequate insurance coverage can help defend against these claims and minimize the potential legal liabilities of the operator.
Overall, aircraft insurance is important for drone operators. By having the right insurance coverage, drone operators can fly with confidence, knowing that they are protected against potential risks and liabilities.
What If You Are Renting An Aircraft?
If you are flying an aircraft that you do not own, it's important to realize that you may be liable in the case of an accident, even if the aircraft owner has their own aircraft insurance policy.
An aircraft owner's insurance policy may often only provide coverage for the owner and any pilots specified in the policy contract. If you are not one of those pilots, then the owner's insurance policy will most likely not cover you.
In the case of an accident, you may be liable for any damages to the airplane itself or any other property damaged during the accident. If anyone was injured, it is possible that you may get sued.
To avoid what could potentially be catastrophically high legal costs, it is recommended that anyone renting an aircraft purchase an Aircraft Renters Insurance policy.
Why Should You Pick BWI Aircraft Insurance?
At BWI, we understand the unique needs of aircraft owners and operators, which is why we offer comprehensive insurance policies tailored to your specific situation. Our experienced team of professionals will work with you to find the right coverage at the right price.
The pricing of your insurance plan will depend on several factors, including the size and type of aircraft, the extent of your pilot history and training, and how many passengers the aircraft will hold. Talk to an insurance specialist to help you figure out how much coverage you can reasonably afford. From there, we can help you find the best rates for the most coverage.
We have almost 50 years of experience in the aircraft insurance industry, so you can trust that we have the knowledge and expertise to handle any situation that may arise. Our team has seen it all, from minor to major incidents, and we know how to navigate the claims process to ensure that you get the maximum benefit from your policy.
We offer a wide range of coverage options, so you can choose the protection that best fits your needs. Whether you need coverage for a single-engine prop plane or a fleet of corporate jets, we can tailor a policy that meets your specific requirements.
With BWI, you can be confident that you're getting the best possible coverage at a competitive price. Don't take chances with your aircraft. Protect your investment with BWI aircraft insurance. Contact us today to learn more and get a free quote