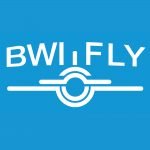 For Immediate Release
BWI Aviation Insurance
Anchorage, Alaska
June 9th, 2020
BWI Announces The Official Reopening of their Lake Hood Office
Starting Monday June 22nd, our office will reopen to walk in customers and aircraft owners.
ANCHORAGE, AK — June 9, 2020 — Today BWI, Alaska's Leader in Aviation Insurance announced the reopening of their Alaska office, which is located on beautiful Lake Hood in Anchorage. Starting on Monday, June 22nd, 2020, the office will officially reopen to walk in customers and aircraft owners. Due to COVID-19 safety concerns, the office was temporarily closed at the end of March and all employees moved to working remotely.
Based on the guidance of Alaska Health Mandate 016, along with additional social distancing measures in place, the office can safely resume operation in support of aircraft owners throughout the great state of Alaska.
"We are comitted to the safety of our employees and in maintaining a safe office environment for our customers. We support the Alaska flying community and are absolutely thrilled to welcome our customers back into our office. We've missed you!" said Matt White, Owner of BWI Aviation Insurance.
The office is staffed year-round with local based, friendly and knowledgable aviation insurance professionals. BWI Aviation Insurance is home to the best aviation insurance options and offers the best rates for Aircraft, Drones and Hangars Nationwide. We are a California based, family owned company, who has been serving pilots for over 42 years. In 2012 we began our mission of giving more aircraft owners and pilots in Alaska the opportunity to insure their aircraft by working to offer lower insurance rates, better coverages and more options, backed by solid A+ rated insurance companies. Seven years ago we started with just one insurance company in Alaska, AIG, and began offering coverage in our National Cessna 180/185 Insurance program. We now work with 4 insurance companies and we support and insure several thousand aircraft owners in Alaska.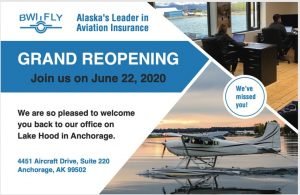 For more information, visit www.bwifly.com
For more information, press only:
(Matt White), (800.666.4359), (Matt.White@bwifly.com)
For more information on BWI:
https://www.bwifly.com