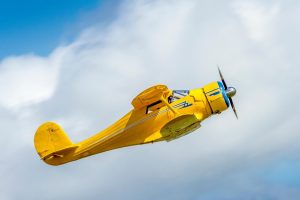 Beech 17 Staggerwing Overview:
The Great Depression slowed general aviation to a crawl across the world. Many early aircraft manufacturers collapsed, production lines were paused or shuttered entirely, and the few remaining types available tended to be light and inexpensive. Walter Beech was already eyeing the recovery and without a doubt the orders to follow. Beech intended to take a bold risk – in a time of worldwide economic hardship, the company would hedge their bets on a brand new luxury aircraft. The gamble paid off, and the new Model 17 would shape a new segment of general aviation.
Beech had simple desires for the new design: it needed to be larger, faster, and more comfortable than any competitors. Rather than market for an individual or family, the Model 17 would target business executives in what would become an early version of a modern corporate jet. The new design would feature typical wood and fabric construction but with much more attention paid to aerodynamics and streamlining of the structure. In an interesting reversal among biplanes, the lower wing was placed noticeably forward of the upper wing, and the unique stance gave the aircraft the popular name "Staggerwing". Beech tested several different engines and eventually chose the 7 cylinder Wright radial. A final pre-production change was the replacement of fixed landing gear with a hydraulically powered retractable system, helping to improve climb performance and cruise speed.
While many similar four to six-place cabin airplanes were built to be as light and simple as possible with passenger comfort being a secondary concern, the Staggerwing was designed from the start to be a luxury traveling machine. Its five seats could be trimmed in leather or sheepskin at the desire of the customer. Sidewalls featured insulation to reduce noise in flight, and a heater and numerous vents helped passengers remain comfortable year-round. The high comfort and performance also led to high production effort and cost, leading to a subsequent high price tag (around $15,000 at debut, equivalent to nearly $350,000 today). This caused slow initial sales at its introduction in 1933 but as the economy recovered sales continued to rise and by the beginning of World War II more than 400 had been produced.
Subsequent models would improve primarily on interior furnishings and engine power. The original 285 horsepower engine would later be replaced by a 350, 420, and 450 horsepower version. By the time the D17 was introduced in 1937, a 9 cylinder 600 horsepower supercharged Pratt & Whitney engine was even an option. Even with the mid-power engines, the Staggerwing could cruise at nearly 200 knots and had a ceiling of 25,000 feet, far surpassing any of its similar-sized companions. Stock D17s were entered in numerous 1930s air races, and famed aviator Jackie Cochran used her D17 to set speed and altitude records.
World War II saw the order of 270 stripped down Model 17s as the UC-43 for general utility work. Another 100 were impressed from the civilian fleet already available. At the end of the war, Beech would produce 16 more civilian Model 17s before retiring the line in 1948 with a total of 785 produced.
Beech 17 Staggerwing Insurance Cost:
Aviation insurance in general, is a very specialized industry and premiums vary depending on make and model of the aircraft, hull value, use of the aircraft, pilot history and qualifications and aircraft insurance rates even take into account the loss history of each specific make and model and the loss history of the aviation industry as a whole.
Beech 17 Staggerwing insurance, like all aviation insurance, is broken down into 2 specific coverages. The first is Liability Coverage, which is standard on every aircraft insurance policy and the second is optional hull coverage, which covers damage to the aircraft itself.
Beech 17 Staggerwing aviation liability insurance covers damage caused by the aircraft, outside of the aircraft, specifically property damage, bodily injury, and provides for legal defense in the event that the aircraft owner or policyholder is sued.
A real-world example of how this aviation liability coverage would protect you: If, as a result of operating your Beech 17 Staggerwing you damaged property or caused bodily injury outside of the aircraft, you would have the full amount of total liability coverage to pay for damages that occurred, less the liability amount paid for passengers inside the aircraft. If the aircraft crashed and you had passengers inside the aircraft that were injured, your insurance policy would pay up to the policy passenger limit for each passenger.
This liability coverage also applies as a bubble that follows the aircraft around. If the aircraft is hangered, liability coverage extends throughout your hangar and it is this coverage that airports will typically require you to have. It's not a separate insurance policy, it is actually coverage built into your standards airplane insurance policy.
Other liability options: Higher liability coverage on the Beech 17 Staggerwing may be available to qualified pilots with experience in the make and model and a minimum Private License/IFR rating.
The second coverage on a Beech 17 Staggerwing insurance policy is hull coverage and is an optional coverage. Aircraft hull insurance covers damage to the aircraft itself and is an agreed value, not subject to depreciation. Agreed value is decided during the initial insurance quoting process, the aircraft owner requests an insurance quote for his or her Beech 17 Staggerwing and requests a quote including hull coverage in the amount of say $220,000. Once an aviation insurance company provides a quote, they are agreeing with you that your aircraft is worth $220,000.
*Insurance companies may place additional stipulations on quotes to prove the value of your aircraft prior to binding, if your agreed value is higher than bluebook.
Most aviation insurance companies do not offer deductibles higher than $0 deductibles, which means in the event of a total loss, if your aircraft was insured for $220,000, you would get a straight check for $220,000.
Beech 17 Staggerwing Insurance Cost Breakdown:
As of January 2021, there are 5 carriers quoting Beech 17 Staggerwing insurance in the U.S. We consider qualified pilots to have at least a Private License with 200 total hours, 100 tailwheel hours and 25 hours in the make/model.
For an annual policy with $1,000,000 in liability only coverage.
 Premium range for qualified pilots: $850-$1,050 per year.
 Premium range for less than qualified pilots (low-time/etc): $675-950 per year.
For an annual policy with $1,000,000 in liability coverage and $220,000 in hull coverage
 Premium range for qualified pilots: $4,500-$5,800 per year.
 Premium range for less than qualified pilots (low-time/etc): $9,950-$12,700 per year.
BWI is a family-owned, nationwide insurance brokerage specializing in aviation insurance since 1977. Our dedicated Aviation Insurance Professionals are highly trained, hand-picked and experienced in helping Beech 17 Staggerwing owners and operators obtain the very best insurance coverage.
BWI offers comprehensive Beech 17 Staggerwing insurance policies for personal, business, charter, industrial aid, and commercial aviation uses.
For more information or to get an actual Beech 17 Staggerwing insurance quote, please fill out a quote request online here or call us at 800.666.4359
BWI | The Future Of Aviation Insurance
Family Owned Since 1977 | Nationwide | Forward Thinking
What makes us different? Our office is open 12 hours a day, our team is hand-picked, well-trained and every single customer has their own dedicated Aviation Insurance Professional.
*Always consult your insurance policy for exact coverage specifications, exclusions and details.