On May 5th, the FAA issued a press release listing the eight companies that will assist the administration in developing RemoteID specifications and requirements in the near future. Although the FAA's RemoteID rule is still being developed separately, the core competencies of the companies selected – Airbus, AirMap, Amazon, Intel, One Sky, Skyward, T-Mobile, and Wing – will likely have a significant impact on the structure of the RemoteID due to their influence on the corresponding technology standards.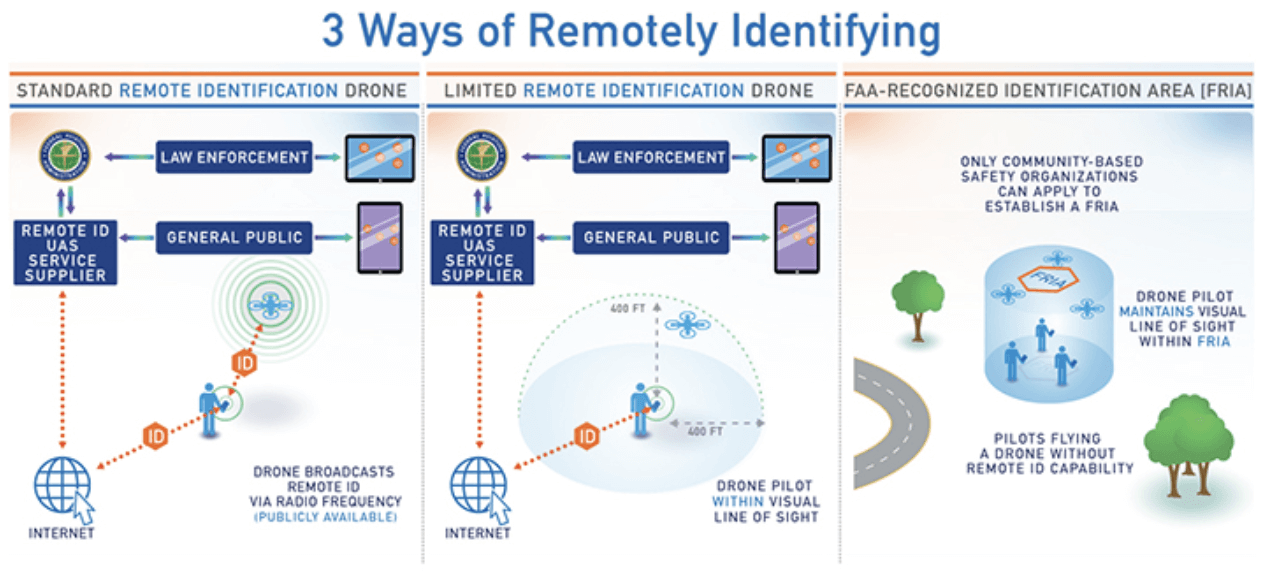 Meeting the Requirements
The FAA has outlined three different situations in which UAS operations can be conducted safely and legally within the US airspace system. Assuming you are flying a drone weighing more than 0.55 pounds outside of an established FAA-recognized identification area, where the current hobbyist sUAS rules apply, periodic identification and positional data reports will be required at specified time intervals (these are not yet finalized). Under the standard RemoteID scheme, drones may be flown beyond visual line of sight provided that the UAV's position and user identity data is streamed to a RemoteID service provider over the internet and the UAV itself broadcasts that same ID and location data.
The FAA also describes a limited RemoteID scheme, where only the internet data stream is required and UAVs need not be equipped with broadcast equipment; under this scenario, flight of the UAV is restricted to a 400 foot radius around the pilot/ground station and a 400 foot ceiling above the surface. The participation of Intel, T-Mobile, and other internet-focused companies in the RemoteID cohort has led the UAS community, including members of the Association for Unmanned Vehicle Systems International, to anticipate a network-focused solution.
The Cost of Compliance
While the lower cost of purchasing, operating, and insuring UAVs has always been touted as an advantage of UAS over traditional utility aircraft, using commercial-grade UAS incurs some expenses that manned aircraft operations do not.
The autonomous systems industry is an emerging one; its dynamic nature poses immature products, discontinued support of failed startups, and frequent updates of buggy software as challenges to would-be early adopters of unmanned aircraft technology.
Many users of DJI drones have been forced to upgrade to new product generations as the company stops supporting older drones, as was the case when DJI discontinued the original Mavic Pro and its older Phantom generations. Much like the drones themselves, remote ID systems will be subject to a lengthy testing and certification process, meaning they will likely be produced as turnkey modules for integration with any drone or ground station.
Many engineers and UAS professionals anticipate technical headaches with ambitious first generation RemoteID systems, due in part to major 5G implementation challenges, and so expensive RemoteID upgrades will likely be necessary. Adding electronics to a drone raises its price, increases vehicle weight, and decreases flight time.
Safety and Liability in the National Airspace System
The RemoteID system was designed to promote operational safety and effective law enforcement from the beginning. There is good reason to be optimistic about achieving a safe and harmonious UAS flight environment in the near future, but because so much of the technology is new, strong emphasis must be placed on thoroughly testing novel systems before they are trusted. Drone operators need not look further than the internet of things (IoT) industry to observe the consequences of pushing products to market before they are ready.
Many failures of IoT systems have occurred due to security flaws that were overlooked by developers, ranging from industrial control systems infected by the Stuxnet worm in 2010 to recent and ongoing concerns regarding smart security cameras. RemoteID is a system that is dependent on embedded systems and constitutes part of the internet of things, and so considerable regulatory attention has been devoted to issues like pilot location privacy. Individual drone operators need to learn about security risks before purchasing equipment and must install software updates to guard against known bugs.
Drone insurance providers are cognisant of the differences between the standard and restricted RemoteID models. Operators wanting to use non-broadcast-equipped UAVs will likely need to be doing work such as roof inspections in urban areas to justify flying with restricted RemoteID, and they should balance the new freedoms of standard RemoteID with the cost of upgrading their fleet.
If you are wondering about how your business may be affected, our team is available to answer questions about drone insurance coverage.
BWI | The Nation's Leader In Aviation Insurance
Family Owned | Nationwide | Since 1977
What makes us different? Our office is open 12 hours a day, our team is hand-picked, well-trained and every single customer has their own dedicated Aviation Insurance Professional.
Get a no-obligation, free insurance quote at www.bwifly.com or call 800.296.8595