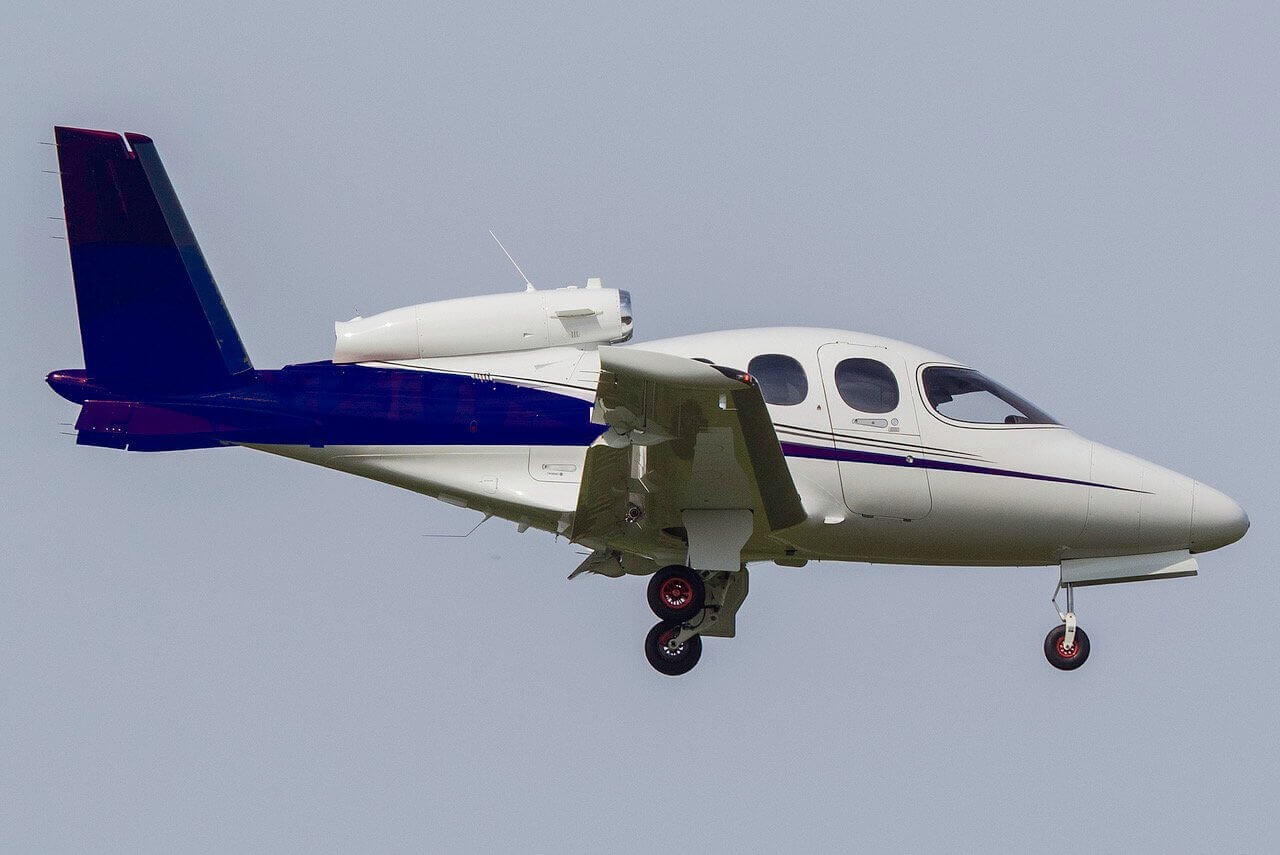 Cirrus Vision Jet Overview:
First introduced in 2007, the SF50 "Vision Jet" was Cirrus Aircraft's entrant into the booming Very Light Jet (VLJ) market of the early-2000s. A prototype was quickly assembled and by July 2008, the prototype had begun test flying. However, the deteriorating economy that forced the cancellation of several competing VLJ aircraft brought Vision development almost to a halt. By 2014 the rebounding economy had revitalized the Vision program, and in 2016 the aircraft was certified and deliveries began.
The Vision was a clean-sheet design from the Cirrus "Moose Works" research and development department. It originally used the same SmartDeck avionics system used on earlier Cirrus single-engine piston aircraft paired with highly integrated and automated aircraft systems, a structure featuring the wide usage of composite materials, and a base price of $1 million. While their VLJ competitors were trying to go higher, farther, and faster, Cirrus described the Vision as the "slowest, lowest, and cheapest jet available."
After the slowing of development in the late-2000s, Cirrus made changes to the aircraft leading to the eventual production version. The SmartDeck was replaced in the production aircraft with the incredibly popular Garmin G1000 (and later the touch screen G3000) integrated flight deck, echoing Cirrus's movement to this system across their entire production line. By the time of certification in October 2016, the base price had almost doubled to near $2 million, but Cirrus maintained an order book of over 600 aircraft at certification.
Unique among its competitors, the Vision utilizes just a single-engine – the well-proven Williams FJ33 mounted above and aft of the passenger cabin and producing 1900 pounds of thrust. The aircraft can carry up to six passengers plus a single pilot in a unique configuration with three rows of two seats plus a single seat between the middle and aft rows, though the aft row is only large enough to fit children.
Like other Cirrus aircraft, the Vision includes the Cirrus Airframe Parachute System (CAPS) which can deploy from the aircraft's nose in emergency situations. The original aircraft were certified to 28,000 feet and a 304-knot maximum cruise speed. In 2019, the G2 model was announced, beginning with serial number 94. The G2 included improvements which raised the maximum operating altitude to 31,000 feet, allowing slightly faster cruise speeds and extra range. This was coupled with improvements in the pressurization system, additional noise insulation, and an autothrottle to reduce pilot workload. In 2020, the Vision became the first jet approved with the Garmin Safe Return emergency landing system. If activated in the event of an emergency, this system will locate the nearest airport, navigate to it, and perform a landing – all without pilot input.
Cirrus Vision Jet Insurance Cost:
Aviation insurance in general, is a very specialized industry and premiums vary depending on make and model of the aircraft, hull value, use of the aircraft, pilot history and qualifications and aircraft insurance rates even take into account the loss history of each specific make and model and the loss history of the aviation industry as a whole.
Cirrus Vision Jet insurance, like all aviation insurance, is broken down into 2 specific coverages. The first is Liability Coverage, which is standard on every aircraft insurance policy and the second is optional hull coverage, which covers damage to the aircraft itself.
Cirrus Vision Jet aviation liability insurance covers damage caused by the aircraft, outside of the aircraft, specifically property damage, bodily injury, and provides for legal defense in the event that the aircraft owner or policyholder is sued.
Aircraft liability insurance is typically offered for Cirrus Vision Jet 's in amounts between $1,000,000 and $3,000,000 per occurrence (per incident) and includes coverage for passengers, but typically limits that amount to between $100,000 and $1,000,000 per passenger. Passenger liability coverage is included within the total liability coverage amount.
A real-world example of how this aviation liability coverage would protect you: If, as a result of operating your Cirrus Vision Jet you damaged property or caused bodily injury outside of the aircraft, you would have the full amount of total liability coverage to pay for damages that occurred, less the liability amount paid for passengers inside the aircraft. If the aircraft crashed and you had passengers inside the aircraft that were injured, your insurance policy would pay up to the policy passenger limit for each passenger.
This liability coverage also applies as a bubble that follows the aircraft around. If the aircraft is hangered, liability coverage extends throughout your hangar and it is this coverage that airports will typically require you to have. It's not a separate insurance policy, it is actually coverage built into your standards airplane insurance policy.
Other liability options: Higher liability coverage on the Cirrus Vision Jet is available to qualified pilots with experience in the make and model and a minimum Commercial/MEL/IFR license/ratings.
The second coverage on a Cirrus Vision Jet insurance policy is hull coverage and is an optional coverage. Aircraft hull insurance covers damage to the aircraft itself and is an agreed value, not subject to depreciation. Agreed value is decided during the initial insurance quoting process, the aircraft owner requests an insurance quote for his or her Cirrus Vision Jet and requests a quote including hull coverage in the amount of say $2,000,000. Once an aviation insurance company provides a quote, they are agreeing with you that your aircraft is worth $2,000,000.
*Insurance companies may place additional stipulations on quotes to prove the value of your aircraft prior to binding, if your agreed value is higher than bluebook.
Most aviation insurance companies do not offer deductibles higher than $0 deductibles, which means in the event of a total loss, if your aircraft was insured for $2,000,000, you would get a straight check for $2,000,000.
Cirrus Vision Jet Insurance Cost Breakdown:
As of January 2021, there are 6 carriers quoting Cirrus Vision Jet insurance in the U.S. We consider qualified pilots to have at least a commercial license, with 3,000 total hours, 1,000 MEL hours and 50 hours in the make/model.
For an annual policy with $1,000,000 in liability only coverage.
 Premium range for qualified pilots: $1,500-$1,750 per year.
 Premium range for less than qualified pilots (low-time/etc): $1800-$2,400 per year.
For an annual policy with $1,000,000 in liability coverage and $2,000,000 in hull coverage
 Premium range for qualified pilots: $13,000-$16,700 per year.
 Premium range for less than qualified pilots (low-time/etc): $22,000-$38,500 per year.
BWI is a family-owned, nationwide insurance brokerage specializing in aviation insurance since 1977. Our dedicated Aviation Insurance Professionals are highly trained, hand-picked and experienced in helping Cirrus Vision Jet owners and operators obtain the very best insurance coverage.
BWI offers comprehensive Cirrus Vision Jet insurance policies for personal, business, charter, industrial aid, and commercial aviation uses.
For more information or to get an actual Cirrus Vision Jet insurance quote, please fill out a quote request online here or call us at 800.666.4359
BWI | The Future Of Aviation Insurance
Family Owned Since 1977 | Nationwide | Forward Thinking
What makes us different? Our office is open 12 hours a day, our team is hand-picked, well-trained and every single customer has their own dedicated Aviation Insurance Professional.
*Always consult your insurance policy for exact coverage specifications, exclusions and details.