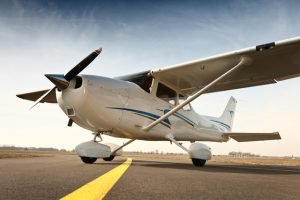 Overview
The Cessna 172 Skyhawk is the world's most popular and most successful civilian aircraft ever built. Since 1956, over 44,000 172's have been built and the aircraft is still in production today. The Cessna 172 is a simple, well built aircraft that is easy to fly, very reliable and it is not complex to repair. This aircraft is well suited to student pilots learning to fly or pilots who want to keep flying simple and easy. The 172 is considered one of the best training aircraft ever conceived and is a staple in flight school inventories across the country.
Specifics
Cessna 172 Skyhawk is a four-seat, single-engine, high-wing, tricycle gear aircraft powered by a four or six cylinder piston engine. Having been in production for over 60 years, there have been 21 different models of the 172, each with slight tweaks and engine improvements.
In 1980 Cessna introduced the very first retractable gear version of the 172 called the Cessna 172RG Cutlass, which increased the cruise speed by about 18 knots. Only about 1,177 RG's were built due to higher maintenance cost and not a significant increased cruise speed.
Speed and Range
Despite slight variations between the different 172 models throughout the years, the Cessna 172 typically cruises at 140 mph, burns about 7-9 gallons per hour and has a fuel capacity of around 56 gallons. This equates to a flight range of about 800 miles which includes a 45 minute reserve.
Utility
The Cessna 172 is a very versatile aircraft that is able to land off airport and has a relatively short landing distance requirement of about 1,250 feet. This makes landing at some backcountry airports a viable option. The theme of the 172 being a good all-around aircraft, good at many things but not great at anything (except training) continues here as the 172 is able to land off-airport but not specifically designed as an off-airport bird.
Why choose a 172?
If you are a student pilot, new to flying, a flight school owner or you just want a basic, easy to fly, reliable, easy to maintain, inexpensive to operate aircraft, the Cessna 172 is absolutely the perfect aircraft for you!